Seth Rogen's The Night Before Trailer Is Sacrilegious And Hilarious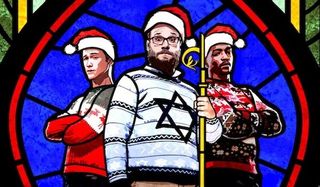 People love classic Christmas movies like Miracle on 34th Street, It's A Wonderful Life, and A Christmas Carol, but there's also room for awesome nontraditional holiday fare like Christmas Vacation, Bad Santa, and Die Hard. Now it looks like we have another to add to the latter category with the Seth Rogen-starring The Night Before, which just delivered this hilarious new trailer.
The Night Before stars Rogen, Joseph Gordon-Levitt, and Anthony Mackie as three life-long friends who spend every Christmas together. Things are changing, however, and this year that tradition comes to an end. Isaac (Rogen) is about to have a baby, Chris (Mackie) is too famous to go out in public for some reason, and Ethan (Gordon-Levitt) has come to terms with the death of his parents on Christmas many years ago. But they're going out with one hell of a bang, and this trailer that just dropped on Twitter gives you a good idea of the debauchery you're in for.
This is the kind of movie where Joseph Gordon-Levitt hollers Wu-Tang lyrics at an unborn fetus, where you give your loved ones a box of mushrooms and cocaine as a Christmas present, and where a chubby Jewish man wearing a Star of David sweater gets fucked up and vomits in the middle of a Catholic church. So basically it's the holiday movie you expect from the people behind movies like This is the End, Neighbors, and The Interview. They did after all cause an international kerfuffle with that last one, church puking is just another day.
As you would expect from a movie with these guys, they brought all of their friends along for the ride, and there are cameos galore. Just in this trailer you get a look at Mindy Kaling and Lizzy Caplan, and yes, you did notice Joseph Gordon-Levitt karaokeing "Wrecking Ball" with Miley Cyrus. You can also bet that there will be more famous faces when you sit down in the theater (I think we all assume James Franco will probably show up at some point, maybe as a drunk, homeless Santa Claus, but that's just me spit-balling).
Seth Rogen's writing and directing partner Evan Goldberg, who teamed up with him on the likes of Superbad and The Interview, is one of the writers credited on The Night Before. Director Jonathan Levine helmed the teen zombie romantic comedy Warm Bodies, and worked with both Rogen and Gordon-Levitt on the dramatic cancer comedy 50/50.
Overall, this looks like a good time, especially for fans of this style of humor. At this point you know what you're going to get—a ton of irreverent jokes, some crass gags, and tight bro friendship. The Night Before hits theaters November 25.
Your Daily Blend of Entertainment News