Sex And The City 2 Spent $10 Million On Wardrobe Alone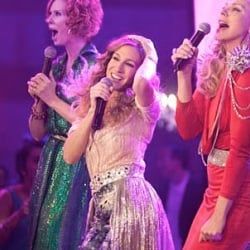 I could bored you to death ranting about how, when it first began, Sex and the City was not intended as a fantasy show about beyond-rich people gallivanting about Manhattan in $1,000 outfits, but a show about real people, people like you and me, who just happened to prioritize expensive shoes over other life priorities. Of course the Sex and the City juggernaut has gotten horrendously far from that original ideal, slapping the first movie with a song about "looking for labels and love" and devoting 10 minutes of the new movie to simply ogling the opulent furnishings at an Abu Dhabi hotel. Marie Antoinette might call it a little much.
But then, that's what they're advertising, and people who pay to see Sex and the City 2 will surely be equally as invested in the clothes and jewels as they are in Carrie's relationship drama. To that point, New York Magazine is reporting that the movie's wardrobe budget was a whopping $10 million, including such extravagances as a $4,000 pair of jeans that was paired with a dress worth $47,190. I'll give you a minute to catch your breath.
The outfit in question is worn by Sarah Jessica Parker and can be seen in the photo above, from a scene in which the girls sing "I Am Woman" at an Abu Dhabi karaoke club. I hope you think of that next time you're belting "Jolene" down at the local bar, and realize what a hopeless schlub you are.
Your Daily Blend of Entertainment News
Staff Writer at CinemaBlend