Shailene Woodley Is Already Done Shooting The Amazing Spider-Man 2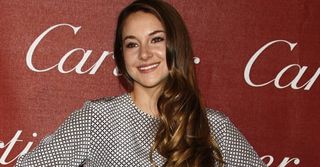 We've already admired her red hair and then debated her looks, and it seemed for a while that Shailene Woodley might be the main focus of the gossip around the Amazing Spider-Man 2 set. As it turns out, Woodley's got better things to do than be photographed by the New York City paparazzi, and just as quickly as her Mary Jane Watson arrived on our radars, she's already gone.
Described in earliest reports as a small role, Mary Jane Watson has left the building, with Shailene Woodley spotted leaving her New York hotel with her hair already returned to its more natural blondish color (via Comic Book Movie). Woodley's got her own franchise to lead, after all, taking the central role in the YA adaptation Divergent, which has been busy adding cast members like Jai Courtney and Maggie Q. The film is the first in the start of (of course) a planned trilogy, but Woodley will have to make the time to reprise her role as Mary Jane in the third Spider-Man film, in which she plays a major role.
Woodley, who broke out in a major way with her role opposite George Clooney in The Descendants, is keeping remarkably busy these days, with the indie festival hit The Spectacular Now coming to theaters this summer, Divergent and The Amazing Spider-Man 2 in production, and a role lined up in The Fault in Our Stars, an adaptation of another hit young adult novel. No wonder she doesn't have the time for a bigger role in the Spidey movie-- she's got too many other jobs!
The Amazing Spider-Man 2 is set for release on May 2, 2014. Below the poll you can find the official plot synopsis.
This poll is no longer available.
(Shailene Woodley image via Phil Stafford / Shutterstock.com)
Your Daily Blend of Entertainment News
Staff Writer at CinemaBlend