Shakespeare In Love Blu-Ray Out At The End Of The Month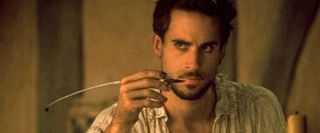 While creating a sequel for a movie that leaves its lovers apart may not be the best idea, giving Shakespeare in Love a Blu-Ray release is more on the right track. Honestly, you would think a film that won 7 Academy Awards, including best picture, would already have been on the ball with a Blu-Ray release. Either way, the release is coming up now, and it is coming soon.
Shakespeare in Love will hit Blu-Ray on January 31. The Oscar-winning film was originally released in 1998 and boasts Gwyneth Paltrow, Joseph Fiennes, Colin Firth, Ben Affleck, Judi Dench, and Geoffrey Rush among its cast. The set looks to feature prominently a few of the extras from various DVD releases, but a few new bonus features, as well.
The Shakespeare in Love Blu-Ray will come with "Shakespeare in Love and on Film," a documentary about the making of the movie. Additionally, it will come with original television spots, the original theatrical trailer, deleted scenes, and a featurette on the costumes in the film. Rounding out the extras will be audio commentary with director John Madden and a second set of commentary with various cast and crew members.
The set will only run for $14.99 during its initial release, which I still think is one hell of a deal for a movie previously unavailable on Blu-Ray. However, if you are looking for a steal, you can currently pre-order the title for $9.99 at Amazon (opens in new tab).
Check out the cover art, below.
Your Daily Blend of Entertainment News
Thank you for signing up to CinemaBlend. You will receive a verification email shortly.
There was a problem. Please refresh the page and try again.