Shia LaBeouf's Brutally Honest Reaction To Watching His Own Bad Movies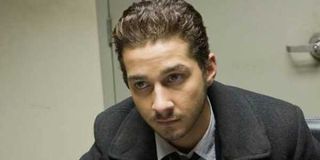 It would be fair to say that Shia LaBeouf's recent behavior has confused a lot of people, his fans included. In the past few years, the young former blockbuster king has taken a large step back from the types of films that made him famous and concentrated on fringe indie fare and (often bizarre) performance art. One such project, #ALLMYMOVIES, saw LaBeouf sit in New York's Angelika Film Center for three days with a group of strangers (who got in for free) and watch all his movies in reverse order. Now, LaBeouf has opened up about the experience with a surprising degree of honesty.
Speaking about his contributions to bad-movie history in an interview with NewHive, he got right down to the nitty gritty when talking about watching his cinematic turkeys.
Wow. I think Shia LaBeouf just won himself a new fan. Or, maybe, a lot of new fans, since it's so uncommon to hear an actor with a lot of potential years ahead of him speak so honestly about the crappy movies he's made. Especially when some of those crappy movies made a gabillion dollars when they were in theaters. No matter how odd some of his recent antics have seemed, this gives us some insight on the guy. It sounds a bit like he felt his career was getting away from him and he needed to step back and do some weird shit to get his head on straight again. And now that he has, he's got a better perspective on the duds he took part in.
I will admit that #ALLMYMOVIES seemed just like the kind of stunt Shia LaBeouf would pull to try to keep eyes on him while his movie career has stalled, but it looks like something more profound happened. Can you imagine what would happen if all our favorite stars took on the challenge of sitting in a theater with strangers and just gorging on all their pictures? If you want to keep the respect of your fans, you'd have to come clean about the ones that either don't hold up or were never that strong to begin with. Many movie stars would simply refuse to cop to that.
But, here's Shia LaBeouf, doing just that. He willingly underwent something that must feel like torture for actors, especially those who have reached a certain level. He immersed himself in his worst movies with a bunch of strangers around, and lived to tell an honest tale about it. If for no other reason, I think we can respect him for that.
Bachelor Nation, Gilmore Girl; will Vulcan nerve pinch pretty much anyone if prompted with cheese...Yes, even Jamie Fraser.
Your Daily Blend of Entertainment News
Thank you for signing up to CinemaBlend. You will receive a verification email shortly.
There was a problem. Please refresh the page and try again.