Shia LaBeouf Has A Problem With The Transformers And Michael Bay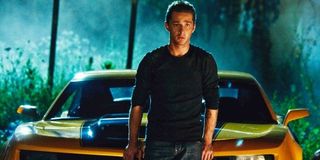 Shia LaBeouf is interesting. He's able to finance his current artistic endeavors because of his work on the likes of the Transformers franchise, but that hasn't stopped him from turning on the robotic series and its director with some biting comments.
LaBeouf was speaking to The Hollywood Reporter at the Tribeca Film Festival ahead of Alma Har'el's documentary LoveTrue, on which he is an executive producer. Sporting a unique new bouffant, LaBeouf spoke passionately about artists who believe wholeheartedly in their material, and suddenly turned on his signature franchise, saying:
Shots fired! The Bumblebee in question has been a key member of the Transformers series throughout its four hugely successful installments. Not only is he one of Optimus Prime's most trusted lieutenants and a key member of the Autobots, but he also built up a solid relationship with Shia LaBeouf's Sam Witwicky in 2007's Transformers, which ran through the actor's tenure in the franchise.
Shia LaBeouf is a fascinating soul. He's gone from child actor to blockbuster behemoth to a plagiarist, all while partaking in the obligatory over-indulgence of drugs and alcohol, and now he's trying to turn his talents to more alternative creations. Quite simply you're either perpetually intrigued or you're already bored to death by him.
As ever, it's rather hard to keep-up with Shia LaBeouf's train of thought during his latest ramble. I'm going to guess that his major beef with working on the Transformers franchise was that most of the time, he did so opposite a plethora of green screen, which ultimately affected his ability to act.
Unfortunately for LaBeouf, these are the breaks when it comes to hundred-million-dollar blockbuster Hollywood filmmaking. Creating such a gargantuan film has to be done so in a fast and timely manner because of the hundreds -- and possibly even thousands -- of individuals who are also working at the same time. This probably meant that there wasn't enough time to make the set feel like the "reality" he needed. It's also why Michael Bay speeds around set trying to make sure that everything is running as smoothly as possible. And if that was upsetting for Shia LaBeouf, then the millions of dollars he was paid to star in the Transformers series should help to dry his tears.
Your Daily Blend of Entertainment News
Your Daily Blend of Entertainment News
Thank you for signing up to CinemaBlend. You will receive a verification email shortly.
There was a problem. Please refresh the page and try again.