Shifting Into High Gear With Aaron Paul On The Set Of Need For Speed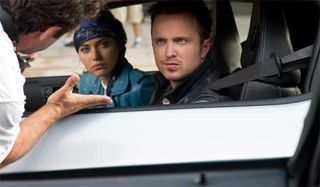 There's something almost too apt about filming a movie called Need for Speed in the Motor City. Detroit shaped American car culture, and remains defined by it; the city is ringed by massive sturdy highways, and even in pedestrian-friendly downtown, the giant towers of the GM headquarters are the tallest buildings in sight. And, on one particular day last June, a roaring car engine brought Detroit's car culture back to screaming, thrilling life, right in the middle of town. The Mustang was having a very noisy homecoming on the set of Need for Speed.
We've already shared with you most of the details from our visit to the set of Need for Speed, which arrives in theaters on March 14. Now it's time to hear from the people behind it, starting with stars Aaron Paul and Imogen Poots, then moving on to director Scott Waugh (previously behind Act of Valor), screenwriter John Gatins (who worked alongside his brother, George) and producer Mark Sourian. Before any of that, though, check out the trailer for Need for Speed below.
AARON PAUL
In his first starring role since the conclusion of Breaking Bad last September, Paul picks up where you might say the finale of that show ended-- only as Tobey Marshall, not Jesse Pinkman, behind the wheel of a very fast car. In his character's sharp leather jacket despite the June heat, Paul talked to us about his love of the fast cars on set, his lack of hesitation playing another criminal after Jesse, and the stunts he got to participate in while making the film.
Was there any apprehension about jumping back into the crime genre after Breaking Bad?
I definitely wasn't trying to stay away from the whole crime element in future opportunities. I like crime. It's dangerous. It's super-fun. With this film, it gives me the opportunity to drive really fast in really crazy cars. So why not?
How is the Mustang?
The Mustang is amazing. His Gran Torino is unreal. The Konisegg is pretty freakily fast, too.
Do they let you drive very fast or are they scared you'll kill yourself?
A combination of both. I do drive fast. I've probably gone, maybe on camera 120. And it's legal and I'm flying by cop cars. It's so great.
What kind of preparation did you have to do?
In terms of driving, they had me do just a stunt course outside of Los Angeles. It's mostly to teach me how to get out of problematic situations if something were to go wrong in the car. I learned how to drift around corners, do reverse 180s and 360s. I don't why they had me learn that. I don't do it in the film. But it was badass.
Do you now apply it in your life?
Every day, yeah. In rental cars. The winnebago [from Breaking Bad] I haven't tried to flip yet [laughs]. We've been having a blast.
Do you get to keep one of these beauties?
Oh man, I'm trying. Trust me, I am trying. I think everybody wants the Gran Torino and we only have two of them. I know Scott, our brilliant director, wants to take one home and I know my stunt driver, Tanner Foust, who is truly the one making me look like I know what I'm doing. In all reality, he's doing most of the driving.
We've heard this film is very grounded in reality.
When it was placed in my lap, I instantly thought, "Oh, it's going to be another Fast & Furious film". That's not necessarily a bad thing. Those films are super-entertaining. That's why they're so highly successful. I read the script and I went, "Oh, wow. This is really interesting." Then I heard the pitch from Scott Waugh and heard that he wanted to do a full throwback to the 60s and 70s classic car-culture films. Stuff like Bullitt. I thought that was very interesting.
What kind of energy does Scott bring to the set?
Oh man, you walk on set and -- you can't really tell today, but it's such a testosterone-driven set. He's a second or third generation stuntman, and he has a very specific, unique vision of what he wants for this film. It's very gritty and edgy. Really, to be honest, I think this film is going to surprise a lot of people. But he's a wild man. He knows what he wants and he's really a perfect director for it. He's super energetic. Super excited. Some days are more stressful than others, but he's a madman. He's great.
The game doesn't really have a plot. Can you talk about having that blank canvass to build a film on?
That's what's so great. There have been so many Need For Speed games, but there's no narrative. It's truly a blank canvas for the writers. You'll see when you watch the film that you actually feel like you're behind the wheel. For a lot of the camera angles, you feel like you're actually driving the car. It kind of makes you feel like you're in the game in a way. In terms of character, it's a blast being a badass but also the good guy. Being a badass in these crazy cars. It's just been fun.
Does this film have its lighter moments?
Even with Breaking Bad, even though it got super-dark, the show is pretty funny. You find yourself laughing at very terrible things. Bodies being melted by acid. It's funny, but in reality it's not. Here, we're having fun. It's really an intense story, but there's the story between Tobey and Julia [Imogen Poots's character], the two people stuck in the Mustang on the cross-country venture, that's a pretty funny one.
Does your wardrobe include more badass leather like what you're wearing right now?
Actually, this is pretty much the only thing he wears in the entire film. It's a story of this guy desperately trying to make it across country in a very short period of time. He doesn't have a lot of time to change. But it's definitely very different than the attire I wear on Breaking Bad. That's not necessarily a bad thing.
IMOGEN POOTS
Up-and-comer English actress Imogen Poots, seen in the last decade in everything from 28 Weeks Later to the Fright Night remake, is in the tough position in Need for Speed as the only girl in a very "testosterone environment," as she calls it. From inside the craft services tent, tucked away in a downtown Detroit parking lot a few blocks from the set, Poots talked to us about her cross-country American road trip experience, getting to speak in her native English accent, and how she'd probably take a crew member's bike over any of the muscle cars actually seen onscreen.
In the scene we saw you and Aaron film inside the car, it looked like you were angry with him. What's really going on in that scene?
There's tension the whole time between the two of them. That's the real idea, I think, with the movie, is to give it a story and a through line inside of all the action;. So this is kind of a midpoint during that trip. So, they're familiar with one another, but still not comfortable enough to be themselves fully. So, we're trying to find an arc somewhere within there.
Can you tell us a little bit about your character?
I play Julia, and she is a young car dealer. She knows a lot about cars. It's not necessarily something that you gather when you first meet her in the beginning, but she's also, as the story goes on, revealed to be a bit of a daredevil. She's willing to kind of try things out.
Was it a relief knowing you didn't have to do an American accent?
Hell, no. I wanted to play like a redneck, but they wanted me to be British in the film. It adds something different to the film, and gives the characters more of an awkward beginning. They're not used to one another's culture or whatever it is.
Do you get to do any driving?
I do get behind the wheel.
Please, elaborate.
First of all, the huge kind of dribbling irony of the whole project is that I don't actually drive and I somehow manage to live in California without driving. It's ludicrous. But in this film I do drive and it's terrific. I mean, we're doing stunts with guys who are at the top of their game, and very much believers in [doing] stunts that are potentially realistic.
Did you have to do any driving training or anything to prepare for it?
I did a little bit. It's more to get used to the speed of the car, because it's like being on a roller coaster when you're going at that speed. As I said, you feel really, really safe and you're willing to try anything in their hands.
You guys hit a lot of the states filming this movie. Was there a city that you particularly really loved filming in?
I loved Atlanta. I love America a lot. I really do. Atlanta was really fun. There's a great music scene there. San Francisco, coolest place ever. Mendocino, beautiful wine town. That was fun, very fun. It was good to get out of Mendocino, because otherwise it would be perpetual hangovers.
What do you think of the appeal of this movie is going to be for women?
Let's hope there is an appeal. It's a testosterone environment we're making this film in, for sure. There's a lot of guys. There's a lot of lifting and a lot of cars breaking down and getting put back together again. You never want to say, "Oh, [women are] going to go for the romance," because I don't think women do that, but I think they'll just go to see a fun movie.
Is it a sausage fest on the set?
It's funny. These guys are really, really gentle. The manners are exquisite on the set. It's extraordinary in the sense of how you're taken care of. I've never felt like, "Oh, I'm the only girl," or anything like that.
What's surprised you about the project thus far?
I think one thing that certainly surprised me was how if you really focus and you really listen, you're able to take on a stunt and really do it yourself and feel great and feel excited. I think some of the stunts you feel, "Oh, I'm going to be nervous the whole time and something is going to go wrong and it'll never look authentic in the moment, because I'll be thinking of too many things," but once you conquer anything really, then you can run with it.
What makes Scott Waugh such a good fit to direct this?
I think his old-school approach to stunt work and the way he commands and runs a set is fantastic. Everybody listens to him. Everybody respects him, and in an environment where you're dealing with peoples' safety, as well as every other thing that's happening around you, I think that's incredible to have that approach. He love this genre. He loves race cars. He knows exactly what he's doing, so it's a wonderful thing to watch.
SCOTT WAUGH
Scott Waugh, a third-generation stuntman who first met Steven Spielberg when doing stunts for the kids in Hook, broke out as a director with 2012's Act of Valor, starring actual Navy SEALs. Waugh uses a lifetime's worth of stunt knowledge to make Need for Speed as jammed with practical effects, real stunts and crazy car crashes as possible. He talked to us about how the project came his way, why he wanted so badly to make a car movie, and what it's like to work with real actors after the challenge of directing Navy SEALs.
Talk a little bit about how you first got involved in the project.
I first got involved with the project when I met with [DreamWorks Co-Chairman/CEO] Stacey Snider and Steven [Spielberg] after Act of Valor, and I was fortunate that they were fans of the movie, and they really wanted to do a project with me. I had already made a commitment to myself during Act of Valor that my next movie was going to be a car movie. I've always been into action my whole life and I wanted to do a car movie. The irony of it all was the serendipity of them getting the rights to do Need for Speed and me wanting to do a car movie. They bought it, and literally I was the next phone call.
A few people have told us that you really do at times feel like you're in the driver's seat, so that's kind of capturing the video game experience. But were there video game elements you wanted to stay away from? Like certain things that other video game movies had tired?
My dad [legendary stuntman Fred Waugh] in the '80s developed the first helmet camera, and there were a lot of limitations we had with that, because it used to be almost 30 pounds on somebody's head, so you couldn't really do a whole lot. With technology advancing, I was in Act of Valor able to put five pounds on somebody's head and really put the audience in the seat. So it's not really a fourth-wall perspective; you can really put the audience in the middle of the movie. So with this film, it's great because the video game does that as well, but I really enjoy doing that in all of my films.
When you got that first phone call to do a car movie, what's the first car or even the first action sequence you knew in your mind: "I have to have this in this movie"?
For me growing up in the '70s, I was so amazed at the car movies of [that time]. I pride myself on trying to do everything in camera, and I just wanted to have a throwback movie to the great car movies that I loved. You go back to Bullitt with Steve McQueen and that great car chase that we still quote today. Steve McQueen did all of his stunts. I said, "Whoever we get, we've got to train so they can do all of their driving."
We were lucky enough to get Aaron Paul to be the lead in this movie, and then when I was talking to Aaron, I said, "Hey, one of my prerequisites is you need to drive. We need to teach you to really drive." I think that was like feeding a kid candy, you know? He was like "Sure!" And my dad worked with Steve, so I have very fond memories of him, and he was an extremely talented racecar driver, and Aaron actually has that quality. We put him in the car for the first day, and I told him, "Hey, if this acting shit doesn't work out for you, you could be a stunt man."
What was one of the greatest challenges you felt here really showing the world of racing and showing that first-person narrative?
The greatest challenge was really getting the actors in the seats. The biggest challenge was you forget at 200 miles an hour you are eating up five miles in under a minute. So where normally we'll just block off a mile to control that environment, we're jut getting up to speed in that first mile. So it really was a logistics nightmare blocking off five miles of terrain so these guys could really haul ass.
Coming off of Act of Valor, what was the most exciting thing for you as far as changing things up from going from a war movie to a racing movie?
The most excitement I've had on this movie--and no discredit to the Navy SEALS--was working with top-tier actors. Getting a Navy SEAL who never talks anyways to speak on camera was really hard, and I think they did a great job, but they're not actors. So for me, that was the biggest luxury on this movie, totally.
What about the locations in this movie? You're in San Francisco, you're heading to Moab [Utah]. Which place did you get to shoot where you were blown away by what you can get out of this place in terms of how the location affects it?
When I met with DreamWorks, I said to them, "I want to be where we say we are." I don't like to cheat. The subtleties of the geographies really lend to the story, and this is a cross-country movie. "We need to go cross-country. We're not going to cheat and do it all in one state just because there are tax benefits." So I pushed hard to get every city we say we are in. That again lends itself to a lot of logistical nightmares, because we travel so much on the show, but I think the environments are great. Like Detroit, it's the "motor city."
JOHN GATINS
Gatins wrote the screenplay for Need for Speed along with his brother, George; Gatins was also nominated for a Best Original Screenplay Oscar forFlight, just a few months before we talked to him on the Detroit set. How can you write a movie based on a video game with no plot? How much input does the video game company EA have on the story? He answered those and many more questions for us that day in Detroit.
Where do you start when adapting a video game that doesn't have any story to build on?
I think that a video game with no narrative is a good place to start, because my brother and I were able to create the world, the characters, the story. The thing that we most took from the game was the landscapes. We wanted to create a quest into the story, so kinda got to do all kinds of cityscapes and mountains and stuff, and that's why we've been to Mendocino, San Francisco, Atlanta, Macon, Detroit, Utah.
What is it about the Need for Speed franchise that makes it the most successful selling racing franchise?
Well, as a car freak, which I am =--I just grew up a white trash kid who loved cars -- I'd never heard of a Koenigsegg. It's like in the game, there's all this wish fulfillment where you get to experience driving a super car that goes 250 miles an hour. It wasn't until making this movie that I put my hands on a real Koenigsegg and Spano and cars that I had only seen in magazines.
You talk about wish-fulfillment, but this movie is also apparently pretty gritty and realistic. Why was that the way to go with it?
Well, I think that it comes from Scott Waugh, who has an incredible story personally. He grew up in this family where his father was a famous stuntman, stunt coordinator, stunt director, and he grew up as a stunt kid. The first meeting that we had with Steven Spielberg, HE looked at Scott and said, "Wait, I know you," and he said, "Yeah." He said, "I stunted on Hook." So as a little kid he was a stunt player for one of the actor kids in Hook, and Spielberg recognized him. Scott grew up in a world of authentic car stunts, so for him it was really important for that authenticity carried its way into the movie, unlike other movies that really rely so heavily on CGI.
What's the most expensive car that you guys have trashed?
Most of the cars that we absolutely destroyed were cars that we built, but even those cars that we fabricated were three hundred thousand dollar builds.
Are you treating the cars like real characters? Because I know you can't always focus on Aaron Paul and what he's doing.
A couple of the cars have real personality. We start the movie, like I was saying, like this kid who's the blue collar hero, the every man, who is down on his luck financially and every other way. He doesn't have access to world where he can show off his real talents as a driver. So the cars that we witness at the beginning of the movie are cars that I can kind of grew up with-- they're muscle cars, American muscle cars that you could start with a couple thousand dollars and slowly kind of put it together. It isn't until Dominic Cooper's character enters the picture that gives him an opportunity to step into a level that's magic, with these super cars.
I know you said there were new models of cars that were being debuted. Is there also though a sense of timelessness to the story?
Well, I think so. We were in Macon, Georgia. The race that opens the movie features a '67 GTO and a '68 Camaro, and all of these iconic muscle cars. No matter where we go, we have to bring all that stuff with us, and people always want to stop and look at them and want to talk about them.
What does Aaron Paul bring to the role?
It's funny, 'cause that's kind of who Aaron is in life. He's such an open, straight away kind of guy. The first day I met him, I actually talked to him on the phone while he was in England making a movie, and just on the phone in two seconds, it was super comfortable. He was so humble and excited and not an asshole at all. It was kind of amazing.
There are obviously lots of big action set pieces in this film. Was there one before filming began that you guys were like, "Oh, how are we doing this one?"
There's a great history among these stunt guys. There's a camaraderie and this amazing almost military-like respect they have for each other. They're real jokers and they're hilarious guys and you see them out and they're full of life, but when it comes to doing the work…When we get closer and closer to doing what they call the "events," it gets quieter and quieter and they get more serious. Then literally, like, the last moment before they go to do it, there's a lot of like, everyone stops to get out of their car, and all this hugging, and like, "Hey man, see you on the other side." They take it incredibly seriously. I've never worked on a movie with stunts like this. It's usually a lot of green screen and different kinds of stunts. Car stunts are intense. You're driving thousands of pounds of metal at tons of miles an hour at each other. It's kind of insane.
If you were to do a sequel, is there a specific car, rig, model, anything that you would like to see that you were not able to include in this one?
I've kind of joked that I want the opening of the sequel to take place in Sweden and in the Koenigsegg factory. And one shot, I want to show a Koenigsegg being completely put together, so that people know that it's actually a $2.3 million dollar car, and then take it out onto some highway and just destroy it.
MARK SOURIAN
Sourian spent 15 years as a development executive as DreamWorks before starting work as a producer for the company; his other producing credit is last fall'sDelivery Man. He talked to us about the tricky logistics of a movie crammed with as many car crashes as Need for Speed, the strong influence of Steve McQueen's Bullitt, and why the hero car of the movie definitely had to be American made.
When you decided to shoot in Detroit did that make you think okay, we're gonna get a lot more domestic cars up in the show? You can't go to Detroit and not consider the fact that you're gonna need an American car. But the truth is that Scott always wanted the hero car to be an American car. That was something that I think was really important to him and felt like we needed to have it in the movie. And we wanted all the bells and whistles of all the beautiful fast cars that we have in this movie. But he also felt like that was something that was really important to him and we agree.
Can you talk about specifically what brands you do have in the film?
We have Koenigsegg, Ford obviously, Lamborghini, Ducati, and it's kind of amazing to see these cars in the movie because, first of all, I've only seen them in print. I've never actually really like driven one, let alone seen one before. So it was really exciting to be a part of that and to see these cars because they're absolutely beautiful. Looking at those cars I felt like we were doing something out of science fiction. More like a science-fiction movie than we were a car movie.
You've said that the screenwriters wanted to make a down home car movie. Did they come to you because you had the rights to the video game? How does the Need for Speed game work into it?
EA wanted to make a movie out of Need for Speed. The good news was that George and John were huge car fanatics. And George was able to bring a kind of realistic sensibility to the movie, but a movie that also was driven by character. I think most of you know that when you play video game you're playing it so that you can adopt an experience, but you're not playing it because there's a character in the game that you want to get to know. And I think the biggest challenge was coming up with characters that you could get behind.
Do the laws of physics get bent or broken in this movie? Like is it more Bullitt than Fast and Furious? Mark Sourian: It is 100 percent more Bullitt. In fact that's the movie that Scott references all the time, specifically Bullitt. What was so important in this whole process was that Scott had the experience of being a stuntman and new how to do it safely but effectively. So Steve McQueen and Bullitt was an absolute model for us. I've always joked around like maybe at the end we need to show images of the cars getting wrecked or things happening to the cars so that people know how real this is. There's a whole generation that's grown up with CGI. They'll know that it feels more immediate than anything they've seen in recent years. They may not know why.
There are a lot of the signatures in the Need for Speed game series like the souped-up cop cars. How many of those things the fans of this game series really love and would expect from a Need for Speed movie are in the movie?
Yes there's a lot of cop chases, there are a lot of cop cars and the stunts are pretty elaborate. Yeah, we deliver on that. And again, most importantly I think we deliver on a kind of basic experience of immediacy. I can't tell you the number of ways Scott and our DP Shane Hurlbut are covering the scenes. The guy's wearing a helmet cam, there's a camera in the car, there's a camera outside of the car. The number of angles with which Scott is covering these moments is pretty incredible.
How many big action set pieces are there?
There's a lot of action in the movie, more than three action set pieces; I can say that. Basically in every city have a big stunt. Detroit has a big stunt. San Francisco has a big stunt. But interspersed in that, even, by the way, driving down a street at over 100 mph, you know, two cars racing down a street, that's a stunt. That's not something you would normally do unless you were like interested in arousing the attention of the police. So there's a lot of little stunt work throughout the entire movie. But there's also a lot of big stunts.
Image 1 of 4
Your Daily Blend of Entertainment News