Shocker: Grown Ups 2 Leads Razzie Nominations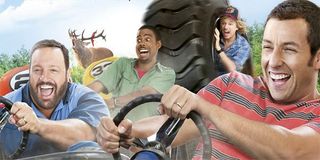 We're a day away from the Academy Award nominations being released, honoring what we assume is the best and brightest of Hollywood. As is tradition, the Golden Raspberry (aka Razzie) nominations are being announced a day earlier, theoretically naming the worst and most despicable of the industry. We're all going to pretend there shouldn't be overlap there, as the Razzies have done since their formation in 1980. Their ceremony will occur on March 1st, long after the Oscars have been announced. And is it a surprise that six-time Razzie winner Adam Sandler is the leading nominee?
Sandler's Grown Ups 2, which he "co-wrote" and starred in, received eight nominations overall according to USA Today (opens in new tab) , including Worst Picture, Worst Actor and Worst Supporting Actress for poor Salma Hayek. Sandler's taken home Worst Actor the last two years, and everybody in the industry is on pins and needles wondering if he can complete the hat trick.
One of his competitors is first-time Razzie nominee Johnny Depp for The Lone Ranger, which also received a Worst Picture nomination. Mind you, these two just took home Favorite Actor and Favorite Comedic Actor at the People's Choice Awards for these respective movies. Someone here has bad taste. Wonder who it is.
Credit the Razzies for having a higher standard than the Oscars, considering the Academy Awards frequently ignore anything not released at the end of the year. Worst Picture reaches as far back as last January, where nominee Movie 43 was busy being the most bewildering wide release in movie history. Summer flop After Earth also makes an appearance in the Worst Picture category, though the schadenfreude factor likely explains that. And because they cannot resist the urge to keep Tyler Perry in his annual Best Actress slot for playing Madea, they've found a spot for A Madea Christmas, which we're certain several in the voting "committee" did not see.
This is because you actually have to pay to vote for the Razzies, and literally anyone can do it. Which doesn't make it much different than the Hollywood Foreign Press as far as Golden Globes, but still. And the core voters know where their bread-and-butter lies: 31-time nominee (!) Sylvester Stallone makes an appearance in Worst Actor for Bullet To The Head, Escape Plan and Grudge Match. The lack of presence for these films in any other categories suggests this voting bloc has it out for the poor guy, but he's gotta be doing something right.
Other low-hanging fruit includes Lindsay Lohan picking up nominations in Best Actress AND Best Supporting Actress for The Canyons and InAPPropriate Comedy (no WAY did any human being see BOTH of these movies), as well as Kim Kardashian for the admittedly-gross Tyler Perry's Temptation. They also found a spot for Lady Gaga's performance in Machete Kills, even though she's in that movie for about three minutes and has maybe five lines.
Because the Razzies are dramatic little bastards, this is only a partial list of nominees, with the full nods popping up tomorrow. Catch the partial nominees here (opens in new tab), and check back in for the full list soon.
Your Daily Blend of Entertainment News
Your Daily Blend of Entertainment News
Thank you for signing up to CinemaBlend. You will receive a verification email shortly.
There was a problem. Please refresh the page and try again.