Sidney Lumet, Director Of Network And 12 Angry Men, Has Died At Age 86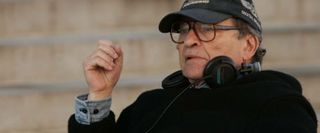 Sidney Lumet, the director behind an astonishing number of classic films and who boasted the distinction of directing a film in each decade since the 1950s, died today at age 86 after suffering lymphoma. His most recent and final film was Before The Devil Knows You're Dead, the 2007 crime thriller that was named by many critics as one of the year's best, and his resume also includes The Verdict, Long Day's Journey Into Night, Fail-Safe and The Wiz. Many of his most remarkable movies were made within a five-year stretch of the 1970s; it's still incredible to look back and realize that Serpico, Murder on the Orient Express, Dog Day Afternoon and Network were made in such a short period of time.
Though film nerds can argue for hours about which of Lumet's films is the best, Network often wins out, and it's the one I'll be thinking about today. The chronicle of a TV network given over to greed and spectacle and sheer insanity, it's an astonishingly clear-eyed glimpse at the media landscape we were about to inherit, not to mention a riveting and sometimes hilarious drama about what inevitably happens when terrible people are put in power. You can essentially throw a dart at Lumet's filmography and come away with a film worth watching, but for anyone unfamiliar with this titanic director's work, Network may be the essential place to start.
Share your own favorite Lumet films or moments in the comments; it's a great day to remember the work of a profoundly influential filmmaker, blessed to remain an essential part of the film world even in the final years of his life.
Your Daily Blend of Entertainment News
Staff Writer at CinemaBlend