Simon Pegg Has Some Great Advice For Star Wars Fans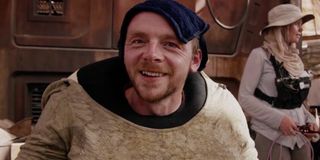 Anticipation for Star Wars: The Force Awakens reaches new heights with each passing day. The film is scheduled for release on December 18, and so far we've only seen two trailers, a photo spread in Vanity Fair, and two presentations with the cast at Star Wars Celebration and Comic-Con. While it's difficult to be patient, that's exactly what Simon Pegg is urging us all to do.
In an interview with Yahoo Movies, the actor gave the world some much needed advice to put everything back into perspective.
If you think about it, we're in the middle of a unique time. The announcement of a new Star Wars trilogy beginning with Episode 7 was one of the biggest movie moments in history. Though we'll likely see more previews dropping as we get closer to release, we'll never be in this same space again — re-watching the original films in anticipation, chatting with likeminded Star Wars nuts about our favorite moments, and looking ahead with a collective twinkle in our eyes to what's coming next from the galaxy far, far away. That said, the Internet makes it difficult to remain in this headspace for long.
Every week brings new rumors about what may or may not be in the film, including "leaked" concept art and images from production. Pegg has even been wrapped up in some of them, as the Star Wars behind-the-scenes video from Comic-Con revealed a shot of the actor in costume on the set. There's something to be said for seeing a film with fresh eyes unclouded by trailers, spoilers and even word of mouth. But, at the very least, Simon Pegg is here to remind us that it is in deed coming. We just have to have patience.
Star Wars: The Force Awakens stars a mixture of new and returning actors. While the "Holy Trinity" of Mark Hamill (Luke Skywalker), Carrie Fisher (Princess Leia) and Harrison Ford (Han Solo) are all coming back, some of the new characters include John Boyega's Finn, Daisy Ridley's Rey, Oscar Isaac's Poe Dameron and Adam Driver's Kylo Ren. The film focuses on the first three; Finn, a Stormtrooper on the run, makes his way to the desert planet Jakku, where he encounters a scavenger, Rey. Meanwhile, the best X-Wing pilot in the galaxy, Poe Dameron, is tasked with a mission by "a certain princess" that forever entwines his destiny with that of the other characters. Disney and Lucasfilm will likely drop some major knowledge on us when the film hits up D23 Expo later this month.
Your Daily Blend of Entertainment News