Sin City: A Dame To Kill For Adds Ray Liotta, Juno Temple & Jeremy Piven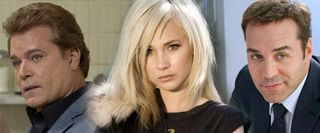 2005's Sin City featured a sprawling cast committing spectacular acts of comic book-styled violence. Sleeky realized by Robert Rodriguez, the crime thriller based on Frank Miller's grisly graphic novels wowed critics and awed audiences to the tune of $158 million worldwide. But clearly the acting community also impressed as a number of notable stars are falling all over themselves to be a part of Rodriguez's long-delayed sequel.
Sin City: A Dame To Kill For will see Mickey Rourke, Jessica Alba, Rosario Dawson, and Jaime King reprising their roles from the first film, with Jamie Chung, Dennis Haysbert and Josh Brolin stepping in to replace Devon Aoki, Michael Clarke Duncan and Clive Owen respectively. Now, as the hotly sought sequel rolls into production, The Playlist has gotten word that Ray Liotta, Juno Temple and Jeremy Piven have joined the cast that also includes Joseph-Gordon Levitt and Chris Meloni.
No details are being released on what characters from the Sin City universe these three might play. But considering most of the female roles in the first film were prostitutes, it seems safe to assume Temple will be one of the Girls of Old Town alongside Dawson, King and Chung. Liotta and Piven's parts are much harder to guess, especially because it's still unknown which stories from the Sin City books Rodriguez is pulling from for his sequel, beyond A Dame to Kill For.
While the film's producers are being secretive now, we'll get details soon enough since this sure to be sexy and sensational sequel is slated for a release on October 4th of this year.
Sin City: A Dame To Kill For is now shooting in Austin, Texas.
Staff writer at CinemaBlend.
Your Daily Blend of Entertainment News
Thank you for signing up to CinemaBlend. You will receive a verification email shortly.
There was a problem. Please refresh the page and try again.