Sir Ian McKellen Finishes Filming The Hobbit And Says Goodbye To Gandalf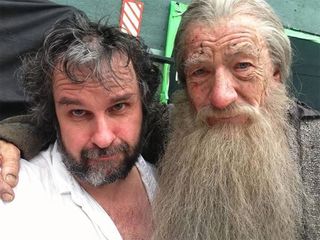 That rather sad looking duo you just saw above is Hobbit director Peter Jackson and Hobbit actor Sir Ian McKellen. They're sad because they've just said goodbye. The photo, originally posted on Jackson's Facebook page came with this caption:
For McKellen this is the end of an adventure that began 14-years-ago. It was October of 1999 when Ian first stepped on to the Lord of the Rings set to film his first scenes in the acclaimed trilogy. It's unlikely he would have predicted he'd still be playing the character of Gandalf, in yet another trilogy, all the way into 2013.
When he finished filming Lord of the Rings he, along with the other actor-members of the Fellowship got this tattoo. Somehow I doubt he'll do anything as permanent to commemorate The Hobbit…
Despite his credentials as a serious actor, McKellen always seemed like he was game to have fun on the set. The behind the scenes videos on the Lord of the Rings extended editions are full of great bits of silliness like this…
And like this…
Ian McKellen was 59-years-old when he started filming Rings back in 1999 and now at the completion of Hobbit he's 74. At that age it seems unlikely he'll ever set foot in Middle Earth again and so this is more than just an end to Ian's time on The Hobbit in a way it's also goodbye to Gandalf, one of the most iconic movie characters of all time. It's hard to imagine him being played by anyone else. Hopefully, he never will be.
Here's a reminder of the way it was the first time we saw him in all his wizard glory, in that perfect moment from Fellowship of the Ring as Gandalf the Grey arriving in Hobbiton. A wizard is never late, nor is he early, he arrives precisely when he means to…
Thanks for the memories, Sir Ian.
Your Daily Blend of Entertainment News
Thank you for signing up to CinemaBlend. You will receive a verification email shortly.
There was a problem. Please refresh the page and try again.