Will Smith: Monster Hunter? - Updated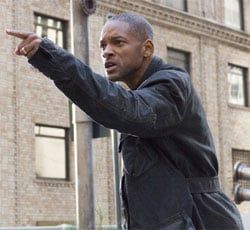 Will Smith may soon be playing a monster fighting shrink. Horror-Movies claims to have found a blurb in Production Weekly which says he'll be in Monster Hunter. In it, he's a child psychologist with the power to see monsters which terrorize children. He uses those powers to fight the Boogeyman.
One problem with this story. Horror-Movies credits Production Weekly. I'm a regular reader of Production Weekly, and I don't see this story in it anywhere. Not in this week's issue, not in last week's, and not in any PW I've looked at recently. So either they get a version of PW which I'm not privy to, they accidentally listed the wrong source, or they made the whole thing up. Take your pick.
Will Smith does love fighting CGI whatevers though, and they say the movie is being done by Sony, with whom he has a good relationship. It's plausible. It could happen, but until there's some official confirmation remain skeptical.
UPDATE! We were able to get in touch with someone at Production Weekly earlier tonight, to straighten this whole thing out. They confirmed to us that the story did appear in Production Weekly, however it appeared several months ago, back in December. This is old news, being recycled as new. As of now, there's no new information on whether this project is still happening. Move along.
Your Daily Blend of Entertainment News
Thank you for signing up to CinemaBlend. You will receive a verification email shortly.
There was a problem. Please refresh the page and try again.