Smurfs 3 Already In Development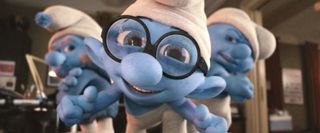 When The Smurfs made more than half a billion dollars worldwide last summer, you had to know there was a sequel coming whether you wanted it or not. And though Smurfs 2 is shooting now and is scheduled for a July 31, 2013 release date, Sony isn't even going to wait that long to get moving on the third one. Variety reports that Sony Pictures Animation and Columbia Pictures have set Karey Kirkpatrick and Chris Poche to develop a script for Smurfs 3, with producer Jordan Kerner also on board after producing the first two Smurfs films.
Kirkpatrick and Poche wrote Over the Hedge for DreamWorks Animation, and Kirkpatrick also directed that film, along with 2009's live-action Imagine That. Raja Gosnell is set to return as director on Smurfs 2, but who knows if he might be angling to depart before the third one and have Kirkpatrick step in. There's also no word on which human stars might return for the third film-- Neil Patrick Harris and Jayma Mays are both set to return as the human caretakers of the Smurfs, with Hank Azaria also back as Gargamel.
If you don't have kids, odds are you never saw the first Smurfs film and probably never will. If you do have kids, you might have taken them to see it out of your own nostalgia for the 80s cartoon, and of course, the constant need to entertain them with something. I still haven't seen the first Smurfs movie myself, but I'm having a hard time imagining it's really that much sillier than the cartoon we grew up with. Yes, that's right, I am perfectly fine with the existence of Smurfs 3-- though if for some reason I wind up having children to take care of by the time it comes out, I may reconsider.
Staff Writer at CinemaBlend