Snowpiercer Coming To VOD Friday, And Why That's Great News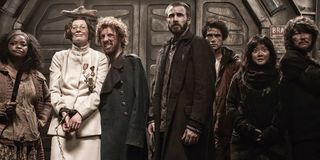 Here at Cinema Blend, we're big fans of Bong Joon-ho's science-fiction epic Snowpiercer. So we're stoked that this Friday it will be easier than ever for you to see it. No matter where you live. That's right Snowpiercer is coming to VOD way sooner than expected.
Indiewire has tipped us to this thrilling news. While we're ecstatic that Snowpiercer will be on VOD by July 11th, a rush to VOD has often been seen as a sign of defeat on the theatrical front. However, that point of view may be increasingly obsolete, and it's not the case here.
Many critics who have sung the praises of Snowpiercer have been lamenting the Weinstein Company's underwhelming marketing campaign for it. For example, here's Vanity Fair's Joanna Robinson commenting on the movie's incomplete website.
Snowpiercer is a RADiUS-TWC release, and while it seems that the film has been getting the short-end of the summer promotion stick. It has thrived nonetheless!
Originally intended as a wide release, the Weinsteins drew headlines when plans to re-cut the film for American audiences were tipped. From there, a compromise was reached that the U.S. would get the original version, but that the release would be limited at best. So, Snowpiercer opened on June 27th in just 8 cities. And yet it pulled in an impressive $162,000 its opening weekend. The following weekend its reach expanded to 250 theaters nationwide, scoring a per screen average of $3,993. Simply put, it's earned $1.5 million in the U.S. spurred mostly by word of mouth. (And another $80 mil overseas, so Snowpiercer isn't sweating it internationally.)
So why the rush to VOD? According to Radius co-president Tom Quinn, an early VOD release was always part of the plan. He said in a statement, "We at RADiUS, decided early on, to do something completely different with this release… we're embracing both the benefits of a platform theatrical, but also the merits of going SUPER WIDE by making it available on more 'screens' then any movie this summer."
The benefits of VOD are mostly a mystery in this day and age because so many distributors keep mum on their numbers. But Radius is breaking from the pack, releasing their VOD data. Quinn said of Radius's releases, "Our grosses are a third or less than our overall VOD grosses." Basically, financial success for films is changing. And Snowpiercer could not only prove to be one of the best films of 2014, but also a real game-changer in the theatre versus VOD model.
Snowpiercer is now in theaters, and coming to VOD on Friday. See it.
Staff writer at CinemaBlend.
Your Daily Blend of Entertainment News
Thank you for signing up to CinemaBlend. You will receive a verification email shortly.
There was a problem. Please refresh the page and try again.