Some Movie Theaters Will Start Accepting Bitcoin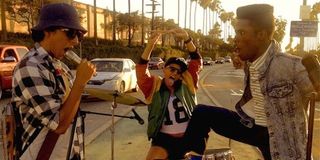 If you don't entirely understand exactly what Bitcoin it, you're not alone. Regardless of that, you'll soon be able to use it to purchase movie tickets, starting with this weekend's wide release of Sundance Film Festival hit Dope.
According to a press release, Open Road Films, which landed the distribution rights to Dope back in January, has partnered with MovieTickets.com and GoCoin to begin accepting Bitcoin at participating theaters across the nation. GoCoin, "the leading international payment platform," plans to provide their services for people to use the alternative currency at 900 of the 2000 theaters where the Rick Famuyiwa-directed indie comedy-drama will open this weekend, and you can buy tickets online beginning today, June 15.
Part of the appeal of Bitcoin is the relative anonymity. For instance, on MovieTickets.com you'll go through the same process of procuring your tickets as you usually would, but once it comes time to remit payment, the process is simplified. You simply select Bitcoin as a payment option and you don't to enter all of the information required when paying with a credit card.
Originally invented back in 2008, Bitcoin is an open-source, peer-to-peer payment system. It allows users to interact and transfer funds directly from person to person without a mediating party, like a bank, involved. That's also part of why it has come into favor in black market and criminal circles, it's difficult to track, though a number of international financial regulatory bodies have been working on rectifying that situation. Its use in legitimate business transactions has also been continually expanding, however, largely because the fees associated with the transactions are lower than those generally charged by credit card companies.
While this sort of expanded use seems like a natural type of growth for what is still a relatively young form of currency and payment, this is a bit of a weird tie in. We haven't seen the film yet, but as far as we know, there's no specific link between Dope and Bitcoin. The film follows a group trio of geeky, '90s hip hop obsessed high school friends who play in a punk band as they navigate the tricky waters of high school. To make matters even more complicated, they live in a tough inner city neighborhood called The Bottoms and have to dodge drug dealers and hoods of all varieties in their day-to-day life. Check out the latest red band trailer below, it looks like a damn good time.
More than anything, they seem to be latching onto what Open Road Chief Marketing Officer Jason Cassidy calls, a "fresh, innovative, and cutting edge" film, which is Bitcoin's whole deal. Sure, partnering with Terminator Genisys might make more thematic sense, but intelligent machines taking over the world might be sending the wrong message.
Dope hits theaters nationwide this Friday, June 19.
Your Daily Blend of Entertainment News