The Dope Red Band Trailer Is Wonderful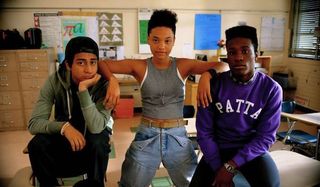 Sometimes there are films where the standard, general audience trailer just does not do it justice. This summer's upcoming Dope appears to be one of those. The red band trailer was just released on YouTube and it's kind of amazing. Standard warnings apply here, NSFW, you probably don't want your kids to see it, etc:
Needless to say, this movie about teenagers may not be right for all teenagers. Dope is the story of a group of friends, led by newcomer Shameik Moore's Malcolm, who live in a lower class part of Inglewood, CA. Malcolm is a geek with a dream of getting out of town and going to Harvard. He has to deal with the gangs and drug dealers who dominate own his neighborhood while still finding time to study for the SAT.
Don't let the 90's MC Hammer pants fool you. The tale is set in modern day, it's just that Malcolm and his friends, Jib and Diggy (played by Tony Revolori and Kiersey Clemons respectively) are obsessed with hip-hop from the 1990's. Check them out in their Kriss Kross, Kid N' Play, glory here:
It bares some resemblance to Superbad, or possibly Go but if you watch the trailer above you'll see that it is also nothing like those movies. The cliches and stereotypes are all there, but they look fresh in this very different setting.
That's probably the smartest thing about Dope. If you were given the base description alone, you'd probably think you'd already seen this movie. Geek kid, obsessed with stuff from his childhood, gets in over his head, coming of age story, yada, yada, yada. Been There. Done That. But Writer/director Rick Famuyiwa (who's currently rumored to be in contention for the Black Panther director's chair) looks to have instilled the tried and true formula with a very different vibe. Fans of teen sex comedies should still enjoy the outlandish antics, but people who don't usually give this type of movie the time of day (checks mirror) might be interested, too.
Dope was a hit at the Sundance Film Festival this year which led to something of a bidding war for it's distribution rights. We'll find out what all the fuss was about when it hits theaters June 19. The movie has the potential to be one of the smartest raunchy comedies in quite some time. Will Dope be on your summer viewing list?
CinemaBlend's resident theme park junkie and amateur Disney historian. Armchair Imagineer. Epcot Stan. Future Club 33 Member.