This Rotten Week: Predicting Inside Out And Dope Reviews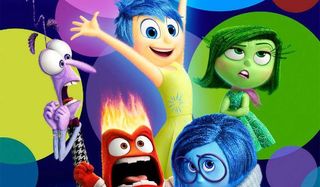 As we get into the heat of summer, we take a quick break from the blockbuster fare and dial it down a bit on the screen with a mix of family-friendly animation and a nice dose of indie coming-of age story. This week we get Inside Out with some Dope.
Just remember, I'm not reviewing these movies, but rather predicting where they'll end up on the Tomatometer. Let's take a look at what This Rotten Week has to offer.
POSTER HERE, LINK IT TO PREVIEW PAGE
PREDICTION RATING HERE, LINK IT TO ROTTEN TOMATOES PAGE
Rotten Watch Prediction
It's strange to think of a cadre of folks running around inside your head controlling every little emotion, response, action and peccadillo you have throughout the course of your life. If nothing else, it would be nice to levy a little blame out there when my emotions get the best of me. Like when I'm yelling at someone about forgetting the extra cheese on my burger, I can just blame someone else. It was Carl up in my cranium who controls my ability to deal with less-than-receptive service industry folks. Or, you know, really anything under the sun. I have a lot of blame to pass around.
See what our personified emotions look like in the trailer for Inside Out below:
In many ways, the folks at Pixar are making coming of age dramas for kids here (and adults thinking back to childhood). their ability to put an almost exact finger on what it means to grow up is uncanny. They did it with the Toy Story franchise in a case study on family, friendships and love, and just when I thought Pixar was running out of stories to discover, they do this: what appears to be another masterpiece in the canon. A story about a girl whose emotions become lost in the vastness of our brains, these little beings living inside her head and heart controlling how she experiences the world. It appears to be a story about how we cope with life in its most basic elements, and how our emotions interact and struggle. It's how we grow up and deal. Basically, this looks like why we make movies.
Pixar's certainly no stranger to critical acclaim, having done it before with the aforementioned Toy Story franchise and other titles like WALL-E (96%), Up (98%) and Finding Nemo (99%). They understand the intricacies of what it means to be a kid. And it looks as though they've done it again. I'm going 100% because judging by early reviews, I don't want anyone to hate this movie. I want to live in a world where flicks like this exist and are purely celebrated. And if emotions live inside the heads these critics, then I hope they experience the joy that the movie is bringing people already.
PREDICTION RATING HERE, LINK IT TO ROTTEN TOMATOES PAGE
Rotten Watch Prediction
There's a special place in my heart for the coming of age drama, featuring a group of kids going through one crazy misadventure that ends up changing their lives in some major philosophical and emotional way. It's a time when they make the leap into adulthood by a series of circumstance. There've been a litany of these flicks over the years and I always fall hook, line and sinker for the concept and the story, and Dope appears poised to join that group.
Check out what I mean with the trailer below:
Many of movies we think about in this genre, from Superbad to Dazed and Confused are often lilly white, but this one is changing things up a bit. It takes place in Inglewood, CA, a part of LA that isn't the safest place in the world for a kid. Dope tells the story of a group of geeky high school teens who get caught up with a drug dealer and spend the day finding ways to sell drugs, talk to girls, come to grips with their situations, and just generally grow up. This group of adolescents isn't who we usually see in these flicks and their circumstances (growing up surrounded by violence and negativity) differs slightly from the typical teen-angst, suburbs-are-terrible fare we usually see. And it looks great.
Early reviews for Dope are overwhelmingly positive, with the film sitting at a cool 100% on the Tomatometer following huge reception at the Sundance Film Festival earlier this year. Director Rick Famuyiwa has a number of critically positive films under his belt, with The Wood (61%), Brown Sugar (66%) and Talk to Me (86%), along with one bomb in Our Family Wedding (13%). Though he's always worked with primarily African-American casts, this is his first foray into the world of growing up. By just about all accounts so far, he nailed it.

This poll is no longer available.

There was only one flick put out in wide release last week, and I blew it. I blew it big time. I suspected Jurassic World (Predicted: 45% Actual: 71%) would be a little too formulaic and been-there-done-that in terms of the franchise, and that it would struggle bringing anything new to the table in terms of drama and gravity as it pertains to the dinosaurs running amok. While the visuals appeared spot on, I thought critics would get bored with the story. I was wrong. Jurassic World scored well with critics - though I will say that many of the reviews followed a theme I suspected. The cool parts of the flick were able to outweigh some of the issues (in the aggregate), and it finished very close to certified fresh. With the success, it stands to reason we see even more dinosaur stories now.
Next time around we meet Max and catch back up with Ted. It's going to be a Rotten Week!
Your Daily Blend of Entertainment News
Doug began writing for CinemaBlend back when Terminator: The Sarah Connor Chronicles actually existed. Since then he's been writing This Rotten Week, predicting RottenTomatoes scores for movies you don't even remember for the better part of a decade. He can be found re-watching The Office for the infinity time.