Is Sony Bumping The Amazing Spider-Man 3 To 2017?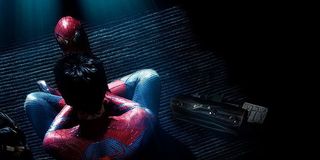 So, Sony. This whole Spider-Man thing isn't working as planned, is it? The latest film, The Amazing Spider-Man 2, is just finishing up its run, ostensibly setting the stage for 2016's The Amazing Spider-Man 3. But after becoming the lowest-grossing film in the series, by a considerable margin, could Sony be having cold feet about the webhead? Spider-Man could defeat the Sinister Six, but is his greatest enemy actually audience indifference?
Buried within some Justice League chatter in this Ain't It Cool News report is the revealing information that The Amazing Spider-Man 3 is being delayed from its original date into 2017. This is a big deal because while the third film already carried a June 10th, 2016 date, The Amazing Spider-Man 4 also had a date for May 4th, 2018. Sony also had directors on-board The Sinister Six and Venom, with hopes of starting one of those films early next year. Postponing Spidey likely means that, unless people want two Spider-Man movies practically back-to-back (unlikely, but possible), Sony will have to surrender that plum May 4th, 2018 slot, the best '18 date on the calendar.
Why is this happening? Because you don't like Spider-Man. I hope you feel good about yourself. Sony head Amy Pascal was reportedly boasting about the new Spider-Man grossing a billion dollars worldwide. Right now, as we speak, it's on the cusp of $700 million, considerably less than a billion, and the lowest-grossing Spidey movie by over $50 million. Worse yet, that's with half-a-billion coming from overseas. In America, the film has yet to reach $200 million, not a good look considering the budget was somewhere around $240-$260. If you make a conservative estimate in regards to the film's prints and advertising budget (even though ads for this were EVERYWHERE), then $700 million might be a break-even point. Toss out any merchandising profits (which go straight to Marvel) and it sounds like this was a flat-out bad investment.
In actuality, the swollen international numbers for The Amazing Spider-Man 2 have to do with an expanding worldwide marketplace and the 3D surcharges. If we're talking purely domestic, each Spider-Man film has grossed less than the previous entry. And with a dozen years of inflation plus those 3D surcharges, The Amazing Spider-Man 2 wasn't even able to gross HALF domestically what Spider-Man pulled in during it's 2002 release. Even if these franchises are too big to fail, that's close to "worst possible scenario" for Sony, who were hoping to shoot right into four more Spidey movies after this.
The bump to just one year later (with an "undetermined") sounds temporary; in fact, it wouldn't be surprising if another shoe were to drop. Sony could always bite the bullet and sell Spider-Man back to Marvel at Los Angeles Clippers prices. The irony of this would be that Marvel probably wouldn't even sniff at that offer until it was considerably lower; why would they need Spider-Man right now? The other option is to continue with these movies and march ahead with part three (likely without Marc Webb), but the next Spider-Man films march ahead without Emma Stone, their most marketable and appealing element. The third? You guessed it, another reboot. Miles Morales is waiting in the bullpen, guys.
Your Daily Blend of Entertainment News
Thank you for signing up to CinemaBlend. You will receive a verification email shortly.
There was a problem. Please refresh the page and try again.