Spielberg Remaking Jimmy Stewart's Giant Invisible Bunny Movie, Harvey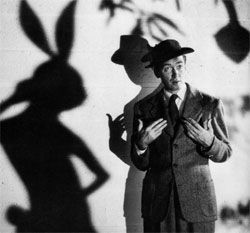 Steven Spielberg has just announced his next directing gig. Nope, it's still not Lincoln. Instead he's doing a remake of the classic Jimmy Stewart movie Harvey.
The original 1950 film stars Stewart as an affable, lovable, bachelor named Elwood P. Dowd who wanders about town buying drinks, meeting new people, and introducing them to his best friend: an invisible, six-foot tall rabbit named Harvey. The movie won an Oscar and if you haven't seen it, make it a point to hunt it down. There's really nothing quite like it in modern film and I have a hard time imagining Spielberg coming up with anything which could improve on it.
Not that the existence of an already perfect Harvey film is going to give Spielberg pause. The press release claims they're creating a contemporary adaptation of the original Mary Chase play, which they no doubt hope to use as their get out of jail free card to avoid calling this a remake. Novelist Jonathan Tropper has already written the new take on Harvey, which Fox 2000 will produce for Spielberg.
Here's my big fear for this project: They'll probably show the rabbit. In the 1950 version the rabbit is never seen, never put on display. Much of the movie is spent wondering whether Elwood is crazy and even when we realize he's not, the movie lets us go right on wondering about Harvey. Much of what's happening in the film is left up to the audiences' imagination. That'll never work for clumsy, modern audiences and I'd bet anything that Spielberg's version will come complete with some ridiculous, cgi, fuzzy bunny. No thanks.
Your Daily Blend of Entertainment News