Spielberg Wanted Ledger For Chicago 7 - UPDATED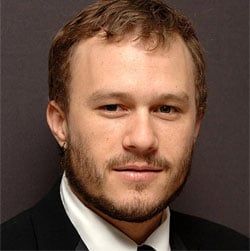 Like everyone else with anything to promote, Steven Spielberg has joined the ever growing throng of celebrities on twitter. At least it seems to be Spielberg, and in fact his account has been verified as the real deal by at least one other well known celeb twitterer.
So it seems that it really is him and he's on Twitter updating on the status of his Trial of the Chicago 7 movie. So how's it coming? He says, "The cast of The Trial of the Chicago 7 is not ready." Part of the problem may be casting. Interestingly it seems he originally wanted the tragically departed Heath Ledger for the film. Steven affirms, "Rest in peace Heath Ledger.I was planning to offer the role of Tom Hayden to him."
Tom Hayden was one of the Chicago 7, arrested along with Abbie Hoffman and other protestors and charged with conspiracy and inciting riots outside the 1968 Democratic National Convention. At one point he was also married to notorious celebrity protestor and extreme hottie Jane Fonda. Yet more proof that everything guys do is really just to get chicks. In Hayden's case, that whole arrested for protesting thing paid off.
UPDATE! DreamWorks contacted us to let us know that the Twitter account posing as Steven Spielberg is a complete and total fake. Well done fake Spielberg, you totally fooled us. Thanks to DreamWorks for communicating with us on this!
Your Daily Blend of Entertainment News
Thank you for signing up to CinemaBlend. You will receive a verification email shortly.
There was a problem. Please refresh the page and try again.