Spike Lee Making Michael Jordan Documentary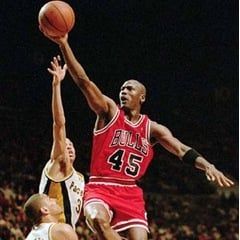 At a visit to Cannes to promote his fall movie The Miracle at St. Anna, Spike Lee announced that he'll make a documentary about basketball great Michael Jordan, using footage shot during the last two years of his career. Variety reminds us that Lee and Jordan worked on a series of Nike commercials in the early 90s, so we should expect to see access to the court star that other directors couldn't manage.
On top of that, the NBA is financing the documentary, which guarantees there will be plenty of archival footage and access to God knows what else. Jordan's career spanned such a long, pivotal time in NBA history that they'll be surely glad to remind people of the days when Jordan was the most recognizable man on the earth. Given that basketball is experiencing a bit of a resurgence in quality right now (at least, that's what I hear from my friends who actually know what they're talking about), the timing is probably right for publicity purposes.
On the other hand, that means that we won't see any kind of dark side of the NBA, or virtually anything controversial. Really, that's a good thing. Lee has a big movie coming out in October with The Miracle at St. Anna, which may bring him back into the Oscar spotlight after it had basically forgotten about him. Now probably isn't the good time for controversy. Second, Jordan practically is the NBA for millions, and since he never seemed to have a big beef with the association, there's no reason Lee should either.
As someone who grew up watching Michael Jordan's direct-to-video inspirational movie Playground (no kidding), I'll be thrilled to see a documentary about him. And even though it's been ages since his glory days, there's pretty much no one who doesn't look him to him in some way. Kobe Bryant is one thing, but Jordan? He's still the greatest.
Your Daily Blend of Entertainment News
Staff Writer at CinemaBlend