Star Trek 3 May Be Coming Sooner Than You Thought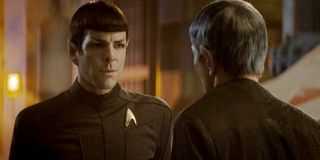 Get ready to beam up to The Enterprise, because Star Trek 3 could be coming sooner than you think if Zachary Quinto's assumptions pan out.
The actor, who's played Mr. Spock in the two J.J. Abrams' helmed reboots, gave a speculative status update about the third film in the newly rebooted series while doing a guest appearance on the Today show. THR has the full details, but you can listen to him below.
Quinto was on the show to promote his upcoming documentary series, The Chair, but talk eventually worked its way to the Star Trek universe. When asked if there was any news on the project, here's what the actor had to say:
Here's the full clip:
Visit NBCNews.com for breaking news, world news, and news about the economy
With director J.J. Abrams having traded in his phaser for a Lightsaber, few expected a new entry in the series to be in front of cameras quite so soon. If shooting is indeed six months off, this would lead even more credence to the rumor that screenwriter Roberto Orci will be the man tasked with overseeing the crew's latest adventure. Orci served as a co-screenwriter on all three Star Trek entries to date (including this in-development chapter), and has previous credits on blockbuster titles like The Amazing Spider-Man 2 and Transformers.
Orci reported that the first draft of the new script is completed. While he wasn't ready to divulge all the plot details Trekkies are dying to know, he did mention that the new script will bring the film's characters ever closer to their original TV inspirations.
With news of a first draft being done, and a potential shooting date right around the corner, expect fan speculation on what the crew's third adventure to kick into high gear any day now. It's too soon to make any sort of meaningful guess as where we'll boldly go in a third Star Trek film, but I'm still secretly holding out hope that we'll see some sort of riff on the Season two episode The Doomsday Machine. That episode, wherein The Enterprise encounters a gigantic, planet devouring machine from another galaxy and must divert it away from a densely populated area of space, is a classic. Plus, it gives Orci and company the opportunity to give a subtle poke to Star Wars, since The Doomsday Machine of the title is reminiscent of The Death Star, but predates it by a decade.
On top of that, it's the kind of story that could really be blown up for the big screen treatment – and could open up expanded possibilities down the road. Of course, there's not even a hint that Star Trek 3 will use this episode as a basis for the new film, but if I were mining the archives for story ideas, this one would be at the top of my list.
What original series stories would you want to see in a new Star Trek? Are you as nervous as we are about the potential hiring of Orci as director? Let us know what you think below.
Your Daily Blend of Entertainment News
Thank you for signing up to CinemaBlend. You will receive a verification email shortly.
There was a problem. Please refresh the page and try again.