New Star Trek Into Darkness Poster Spotlights Zoe Saldana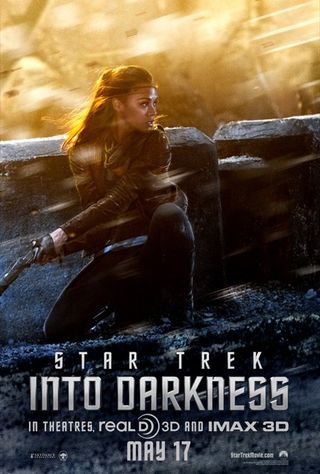 Given the limited amount of information J.J. Abrams wants us to have about Star Trek Into Darkness, there's only so much of the film they can show off in the marketing materials. Posters so far have promised a destroyed London and a lurking Benedict Cumberbatch, with the most interesting twist showing off the Starship Enterprise falling from the sky. Now this latest poster lets an actual human being take the focus-- but no, we're not learning anything else about the plot.
It is interesting, though, that the film's first character poster goes to Uhura, the only major female character who's also a key crew member of the Enterprise (though this time she's joined by Alice Eve's Carol Marcus for at least some significant amount of time). Taking over the role of Uhura from the incomparable Nichelle Nichols, Zoe Saldana has made the character tougher and more interesting than ever, even though in Star Trek she spent most of the time using her considerable brains on the bridge. This time, as this poster and plenty of images have proven, Uhura gets in on more of the action. How much of it? Come on, you didn't think Abrams was going to give it away that easily.
Coming to theaters on May 17, Star Trek Into Darkness will be the first big film after Iron Man 3 to go for the heavy-duty sci-fi crowd (the weekend in-between them belongs to Baz Luhrmann's lavish The Great Gatsby). Can both sequels succeed-- and in the case of Star Trek, can it manage to beat out the Marvel behemoth? It's the kind of showdown that summer movie season is all about, and it's just one of the zillion reasons we can't wait for all the big movies to go ahead and get here.
Staff Writer at CinemaBlend
Your Daily Blend of Entertainment News
Thank you for signing up to CinemaBlend. You will receive a verification email shortly.
There was a problem. Please refresh the page and try again.