Star Wars 7 Trailer: How Han Solo And Luke Skywalker Will Be Revealed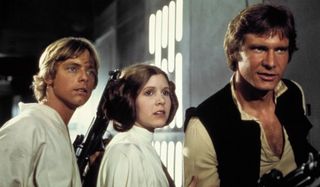 The world has been eagerly awaiting the arrival of the second Star Wars: The Force Awakens trailer, which allegedly is dropping for fans at Star Wars Celebration Anaheim next month. Before then, a few reports have arrived online detailing what we'll be seeing in the new footage. If you want to maintain an air of mystery, you know to stop reading now. But if you want to hear how we'll get our first looks at Harrison Ford's Han Solo and Mark Hamill's Luke Skywalker, whip out your spoon and swallow a few grains of salt.
The trailer itself reportedly runs about 90 seconds, and opens with a shot of an AT-AT lying on its side on a desert planet, presumably the same desert planet we found John Boyega's Finn. While Andy Serkis performed the voiceover for the first trailer, it's a female voice this time around, and Star Wars 7 News suggests it's Lupita Nyong'o's. "I shall show you the story...," she says.
From there, we cut to a few shots of the locations as the voiceover continues: a large castle-like structure in a forest that's most likely the Puzzlewood set location ("of who you seek…"), a large tropical location seemingly on top of the water ("the one who taught me…") and a cloaked figure standing on the stone steps of a tall green, mountainous hill ("I know why the weapon came to you…"). This location is said to be Skellig Michael Isla, where J.J. Abrams shot scenes with Hamill. We then see a shot of Finn, Rey (Daisy Ridley) and a blue alien with a CG face said to be Nyong'o's character. They all stand in the darkness of a case as Finn accepts the hilt of a lightsaber. When he ignites it, the blade is green and Rey is "disturbed" by these events.
Now we get to what we've all been waiting for: the reveal of Han Solo, Princess Leia and Luke Skywalker. In a series of fast-paced shots accompanied by John Williams' music, we see a quick reveal of the elderly Solo, a black TIE Fighter attacking the forest location from earlier in the trailer, Kylo Ren brandishing his broadsword-esque lightsaber and a dark mask in approaching a figure, people fleeing as a TIE Fighter blasts the tropical location around them, a quick bleep-bloop from R2, and C-3P0 and Leia in a Rebel command center of sorts. The voiceover changes back to, presumably, Serkis, who says, "Don't get too sentimental." After a shot of Solo sharing a longing gaze with Lei and walking away from her towards the Millennium Falcon, we see Finn standing in the forest locale in front of Rey and holding his green lightsaber. As the villainous Kylo Ren approaches him, we hear Solo's voice shout, "You can do this, kid. I believe in you."
That last line has us feeling all the feels right now.
Though these are merely rumors at the moment, it's important to note that these Star Wars 7 trailer details have been confirmed by both Star Wars 7 News and Latino Review.
This Star Wars 7 trailer is said to be attached to Avengers: Age of Ultron, which hits theaters on May 1. But anyone attending Star Wars Celebration will be in for a treat. Of course, even if these reports are legit, some of the footage could change between now and its grand reveal. Stay tuned.
Your Daily Blend of Entertainment News