Star Wars Blu-Rays To Feature Never Before Seen Deleted Scenes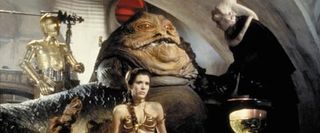 Holy Bantha fodder! It seems George Lucas has cut open the door to his vault like it was a dead Tauntaun and what spilled out was a treasure trove of previously unreleased deleted scenes from the entire saga. According to a report from Bleeding Cool, these scenes will be included as special features on the upcoming Star Wars: The Complete Saga Blu-ray set. The complete list of recovered scenes is posted below…
I'm not going to lie to you, I am a giant Star Wars nerd. The original trilogy was one of my first introductions to cinema. Although Return of the Jedi had already gone in and out of theaters by the time I was born, as a kid I had one of the sundry VHS releases and I watched all three films until the tapes wore out and no longer worked. So yes, I will also admit that the history of alterations made to these phenomenal films is something that gets my ire up. But my anger has less to do with being a fanboy and more to do with my belief that classic films should not be dumbed down and CG-polished to make them more marketable to younger audiences. Lucas' propensity to disregard his fans and digitally remove the magic from these films has earned him more than a little backlash.
This, I'm relieved to say is finally a step in the right direction for Lucas. Though it is irritating that, according to Bleeding Cool, you will be forced to buy the Blu-ray edition containing the miserable prequels as well, it is incredibly encouraging to see George loosing the vice-like grip he had on the original films and giving us a glimpse into the film's past; something he previously seemed hell-bent on burying. In the wake of the news that he digitally inserted extra dialogue into the original trilogy in these Blu-ray releases, it's nice to finally see George doing something that doesn't feel like a finger in the face of fans. I'll admit, I'm even curious to see what scenes were deleted from the prequels.
Your Daily Blend of Entertainment News
Thank you for signing up to CinemaBlend. You will receive a verification email shortly.
There was a problem. Please refresh the page and try again.