Star Wars Co-Star Billie Lourd Blasts A Major Casting Rumor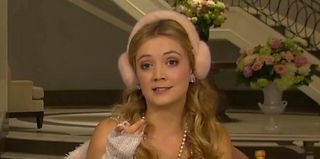 At this point we don't know much about Star Wars: The Force Awakens. Aside from the two awesome trailers, and some character names, everything else we've heard is rumor based on leaks from unofficial sources, and this information is suspect to say the least. We know that Carrie Fisher's daughter, Billie Lourd, plays some small role in the film, and she just shot down one of the rumors surrounding her part.
Talking to The Wrap, the 22-year-old actress discussed The Force Awakens, as well as her role in Fox's upcoming horror comedy series Scream Queens. During the conversation she, in no uncertain terms, put the kibosh on one of the rumors swirling about her part, saying:
Well that puts one of the two major theories about Lourd's character to bed rather definitively, but that's probably just going to make speculation around the other that much more intense. Because she's Carrie Fisher's daughter, the speculation was that Lourd could play Leia's daughter in the film, or, the even bigger rumor, which is that she could play Leia herself in a flashback.
The flashback thing is also a rumor that has been kicked around for some time. While this particular storytelling device is a tool the franchise has never used in the first six films, we've been hearing that it's a possibility for months now, including that Darth Vader (played by professional wrestler Sheamus) might pop up in that capacity. The speculation is that Leia, as played by Lourd, could also show up in this scene, or one of these scenes if there are more than one. This is the first actual role for the young actress—her parents wanted her to get a college degree and not go into acting—and that would certainly be an interesting way to begin a career, by playing a version of your mother's most famous character. Lourde has, however, also shot down this rumor before too, so who the hell knows.
And just because Lourd doesn't play Leia's daughter doesn't mean that she doesn't have a daughter in The Force Awakens. We know that the new film, taking place thirty years after the events of Return of the Jedi, introduces a new generation of characters. Word on the street is that these folks will carry the torch moving forward in the Star Wars universe, and the general consensus is that Rey, the character played by Daisy Ridley, is likely the daughter, possibly estranged, of Leia and Han Solo.
We'll have to wait to see if that's so, but it's certainly appears to be a legitimate possibility. After all, who better to carry the banner of the Force, and the Resistance, moving forward than Han and Leia's kids?
In reality, we won't know for sure who Lourd is playing, or if Han and Leia have children, or what the real deal is, until we actually sit down in the theater to watch Star Wars: The Force Awakens on December 18. And isn't that how it should be?
Your Daily Blend of Entertainment News
Thank you for signing up to CinemaBlend. You will receive a verification email shortly.
There was a problem. Please refresh the page and try again.