Star Wars Episode VII Fan-Made Posters Take Speculation To A New Level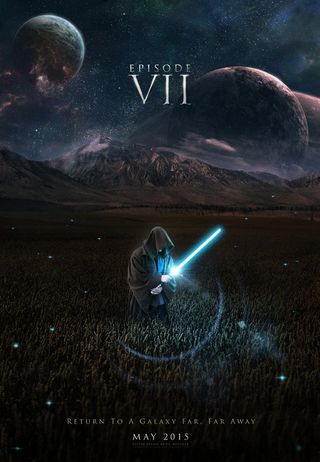 There is no script for Star Wars Episode VII. There is no cast in place. No sets have been built, no costumes have been designed, no locations have been scouted. And yet, because this is the new beginning of Star Wars, and because the Internet is basically fueled by Star Wars fandom, we've got some fan-made posters for Episode VII anyway.
Compiled over at Reddit, the posters take it upon themselves to suggest a story for the upcoming film, which will be directed by J.J. Abrams and written by Toy Story 3's Michael Arndt. Some of the posters, like the one above, are vague enough to suggest just about any story. Others, like this one below, are similarly vague, but are a very deliberate riff off the very intriguing posters for Abrams' own upcoming Star Trek Into Darkness:
You can click over to see posters that suggest a female Jedi as the hero of the new series, maybe even one of Han and Leia's kids, and another with the tagline "The Evil Never Ends. Just Evolves," which suggests a way to hang on to the legacy of Darth Vader even though the character (probably) won't be part of the new series. And it ends with the poster we can't help but include below, the mashup visualization of the amazing storyline that Patton Oswalt laid out in an instantly legendary Parks & Recreation monologue. Hopefully now that "the female part's a little underwritten" has become part of the joke, Abrams and Arndt will work overtime to make sure that doesn't happen for the real movie.
Your Daily Blend of Entertainment News
Staff Writer at CinemaBlend
Your Daily Blend of Entertainment News
Thank you for signing up to CinemaBlend. You will receive a verification email shortly.
There was a problem. Please refresh the page and try again.