Stephen Amell Shows Off The Badass Car Casey Jones Will Drive In Turtles 2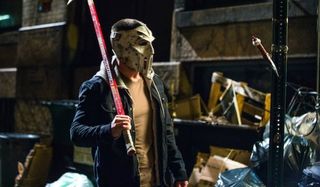 The Turtles are back in Teenage Mutant Ninja Turtles 2, and aside from more pizza-fueled ninja skills, they're bringing with them some new faces. Chief among the franchise recruits is the vigilante Casey Jones, played by Arrow's Stephen Amell. We already got a look at him, hockey mask and all, thanks to a first look image, but the film will also him riding in on a badass station of sorts. Check out his character's hot ride in the image below.
Amell revealed the latest look at TMNT 2 on Facebook, giving fans a look at Jones' car. The sequel to last summer's polarizing blockbuster continues filming in various locations, especially New York City, and Jones's presence should come as happy tidings for fans of the canon.
Jones was featured in the graphic novels and the last crop of live-action TMNT movies. He's a street-level vigilante along the lines of Daredevil and Green Arrow, though instead of batons and bow and arrows, he uses hockey sticks, sports equipment, wrenches, hammers and more as his weapons. Basically, whatever he can find through his plumber profession that's equally good for bashing bad guys' skulls. Jones also acts as a love interest for April O'Neil, who will once again be played by Megan Fox in Teenage Mutant Ninja Turtles 2. Some earlier footage of the set showed the two seemingly undercover as they walked into a police station in NYC. It's unclear how Jones will be introduced in the sequel, though the first look image included one of Raphael's daggers stuck in a street sign. In the comics, the two don't immediately see eye to eye and, in fact, grappled with each other before ultimately coming to good terms.
Jones isn't the only one getting a hot ride, though. Previously, producer Michael Bay revealed photos of a new and improved Turtle Van… or should we say Turtle Garbage Truck? In the final moments of TMNT, we saw the heroes in a half-shell offering to give April a ride in their high-tech van, but this is a helluva lot bigger. And who in New York would take a second look at a garbage truck rolling down Broadway?
The plot details of Teenage Mutant Ninja Turtles 2 are still under wraps, although the presence of fan-favorite characters offer some clues. WWE wrestler Sheamus takes the role of Rocksteady, while Gary Anthony Williams will play his buddy Bebop. We've already seen them in their pre-mutated forms, thanks to paparazzi pics, and we can only hope they'll take their traditional rhino and warthog shapes by the time the credits roll. In addition, Brian Tee has been cast as the new Shredder; Brittany Ishibashi will play Shredder's daughter, Karai; and Tyler Perry will play mad scientist Baxter Stockman. We also exclusively heard details of a scene involving Dimension X baddie Krang. By all accounts, the sequel has considerably upped the ante.
Your Daily Blend of Entertainment News