Teenage Mutant Ninja Turtles 2 Has A Crazy Choice For Rocksteady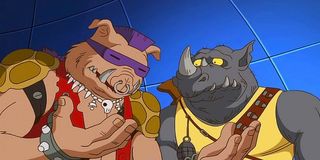 With filming presently rolling along, we're getting more and more information about the upcoming Teenage Mutant Ninja Turtles 2, also known as Teenage Mutant Ninja Turtles: Half Shell. The sequel to last summer's hit will feature a bunch of new characters, including fan favorite villains Bebop and Rocksteady, and while we already knew who will portray Bebop, it now appears the film has made a bold choice for the actor to play Rocksteady.
The Daily Mail has set photos from the New York-based production that show red-haired professional wrestler Sheamus as one half of the dimwitted duo. He joins Gary Anthony Williams, who takes the role as the villain Shredder's other animalistic henchman.
Introduced in the cartoon version of Teenage Mutant Ninja Turtles, though they were conceived and designed by TMNT co-creator Peter Laird, Rocksteady and Bebop start out life as a couple of none-too-bright goons who work for the evil mastermind Shredder. When the Turtles become a problem, the boss figures that the best way to fight mutants is with mutants his own, and the two wind up combined with a warthog (Bebop) and a rhinoceros (Rocksteady). Their appearance in the photos is pre-transformation, and their look definitely seems in sync with their late 1980s origins.
Sheamus, also known as Stephen Farrelly, is no stranger to being in front of the cameras. Not only has he been part of the WWE, the world's biggest professional wrestling organization, for years, he also has a number of small acting credits to his name, mostly as big, tough looking dudes who show up for a scene. There was even a rumor floating around during production that he was going to play Darth Vader, or at least be the guy in the suit, in Star Wars: The Force Awakens.
The former world champion is only one of a number of new additions to Half Shell, additions that go all the way to the top. Earth to Echo director Dave Green takes over the big chair from Jonathan Liebesman. Yesterday we learned that Brittany Ishibashi is taking over the part of Karai, Shredder's daughter who has a very small, almost totally mute role in the first film (today we also saw the first photos of Ishibashi from set as well). Tyler Perry will show up as mad scientist Baxter Stockman, Arrow lead Stephen Amell joins the party as hockey mask-wearing vigilante Casey Jones, and multiple Oscar-nominee Laura Linney slums it here in an as-yet unspecified capacity (there have been hints that she's a cop and a new character). There are even rumors that alien-brain-in-a-jar Krang could make his live-action debut in Half Shell.
Teenage Mutant Ninja Turtles: Half Shell is filming as we speak, and is already set to hit theaters in just over a year, on June 3, 2016.
Your Daily Blend of Entertainment News
Thank you for signing up to CinemaBlend. You will receive a verification email shortly.
There was a problem. Please refresh the page and try again.