Steve Carell Is The New Adam Sandler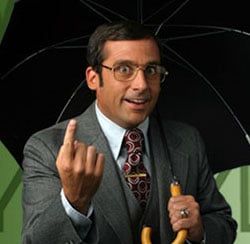 After the $230 million success of Get Smart this past summer, Steve Carell can now officially do whatever he wants. As it turns out, what he wants is to be Adam Sandler.
Variety says Steve has formed a production company called Carousel Prods and signed a 3 year first look deal with Warner Brothers. How will he use it? To make movies with his buddies. Carell says, "My idea was to partner with friends of mine, people I trusted, with whom I share a certain sensibility… have some ideas for films, but I've gotten to know so many people who are funny, talented and fertile with ideas that I'm confident this very strong base of friendships will lead to projects." This is exactly how every Adam Sandler movie got made.
Sandler makes movies with his buddies, and the result has been big money for Sandler… and an undeserved career for Rob Schneider. Hopefully, there's not a Schneider in Carell's group of friends. The projects Carell is planning may or may not star him, which means he's open to producing movies for other actors in his BFF talent base. If he's smart, Carell's first move will be to go right to work on Steven Colbert: The Movie.
In addition to setting up Steve to make his own projects, in a separate deal Warner Brothers is already working on sequel to Get Smart. Their plan is of course to have Carell back in his shoe phone for Get Smart 2. The first one was fun, maybe this franchise could develop into something worthwhile. It's critical though, that they also bring back Anne Hathaway. Steve gets all the credit for the laughs, but Hathaway was a vital part of why that movie worked... or at least sort of worked until the last 15 minutes when it literally turned into a car wreck.
Your Daily Blend of Entertainment News
Thank you for signing up to CinemaBlend. You will receive a verification email shortly.
There was a problem. Please refresh the page and try again.