Steve Coogan And Rob Brydon Hit The Road Again In The Trip To Italy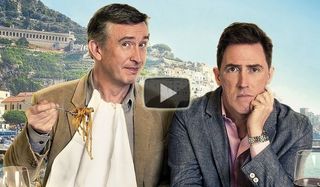 English comedians Steve Coogan and Rob Brydon have made bickering and sniping at each other a palatable part of their shtick, and audiences can chow down on their acerbic and sharp brand of humor with their latest travel laffer, The Trip to Italy.
As you can see in the trailer up top, The Trip to Italy features Steve Coogan and Rob Brydon on an all-expenses paid journey through Italy, where they are being asked to eat at a selection of raved-about restaurants. The only drawback is they have to travel with each other. This road trip will take them from Liguria, Tuscany, to Rome, Amalfi and Capri. Along the way, they'll see incredible sites, eat enviable meals, and agitate each other with battles of impressions, all for our amusement.
The Trip to Italy is a sequel to the Michael Winterbottom-directed comedy The Trip from 2010. In the first film -- cut down from a BBC series of the same name -- Coogan and Brydon traveled across northern England in search of fine cuisine. While the food looked divine, what earned the film buzz on festival circuits was its spontaneous humor, more improvisational than scripted, and the rivalry that sparks between these two comedians, playing themselves to be egotistical fools. Even if you hadn't seen the original series or The Trip's film version, you may have seen a clip that went viral, wherein Steve Coogan and Rob Brydon fight over who has the best Michael Caine impression.
Revisit this bit of madness below. The clip contains strong language, so is NSFW.
The Trip to Italy was the second season of the British series, but a slimmed down version was presented as a feature film at the Sundance Film Festival. This version opened in the UK theatrically on April 25th, and will open in Australia this weekend. The Trip to Italy will finally make its way to theaters in the U.S. on August 15th. On top of impressions teased up top, audiences can also look forward to Steve Coogan and Rob Brydon riffing on celebrity, sex, the way Batman speaks, the artistic value of Alanis Morissette's "Jagged Little Pill," and (funny enough) the worth of sequels.
Your Daily Blend of Entertainment News
Staff writer at CinemaBlend.