Steve McQueen's Classic Papillon Is Getting Remade, Get The Latest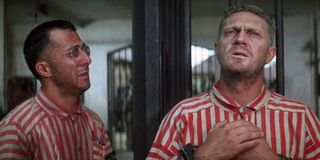 It looks like the remake craze has claimed its latest project. Recent news tells us that Steve McQueen's classic jailbreak adventure flick Papillon is headed for a brand new adaptation - with some interesting talent behind the wheel.
According to The Hollywood Reporter, Danish filmmaker Michael Noer will be directing the caper film that tells the story of Henri Charriere and his many escapes from the infamous French Guiana prison colony, Devil's Island - both failed and allegedly successful. The film will be produced by Red Granite, the studio behind The Wolf of Wall Street, as well as Dumb and Dumber To; and is written by Prisoners screenwriter, Aaron Guzikowski.
The original Papillon was released in 1973 and starred the dynamite duo of Steve McQueen as Charriere, and Dustin Hoffman as his friend and escape partner, Louis Dega. The name of the film, Papillon, comes from the French word for "butterfly," which is also Charriere's nickname - as well as the figure tattooed across his chest, Danny Trejo style.
The original film was based on Charriere's autobiography of the same name, however, numerous sources over the years have spoken out against the alleged falsehoods it depicted. It is alleged that Charriere took many real stories from the lives of other prisoners, and projected them as experiences of his own. Most largely agree that it is likely only a small percentage of the scenes written into the movie actually happened to Charriere as he had asserted. How the modern remake will adjust to these claims remains unseen.
Papillon was heralded and scorned upon its release with many lauding the acting performance of McQueen and Hoffman and others conflicted by a film that asked its audience to sympathize with and cheer as a criminal is depicted as a hero in its title character. Religious groups proclaimed Papillon as a purveyor of the decline in civilization, while most simply accepted and appreciated the story as an enthralling piece of fiction. Even if he was imprisoned for something he didn't actually do, it's a tough sell to get your audience to root for the supposed "bad guy."
If you ask anyone who saw Prisoners, they'll tell you that Aaron Guzikowski has a real knack for making very sympathetic characters who do real bad things. As for Michael Noer, he cut his teeth directing documentaries, before finding success with his prison drama feature called R. More recently, Noer was behind the camera on the gang drama Northwest, so the director is no stranger to incarceration and the criminal element. Noer's remake will be produced by Riza Aziz, Joey McFarland, Ram Bergman, and Roger Corbi, and will be executive produced by David Koplan, Yan-Fischer-Romanovsky, Joshua D. Maurer, Terrence Chang, and Martin Hellstern.
Red Granite has produced an interesting slate of films that vary widely in tone. In addition to Martin Scorcese's Leonardo DiCaprio vehicle and the Jim Carrey-Jeff Daniels reunion, the studio is also responsible for the 2013 thriller Out Of The Furnace, which boasted the all-star cast of Christian Bale, Woody Harrelson, Casey Affleck, Zoe Saldana, Forest Whitaker, Willem Dafoe, and Sam Shepard. Scott Cooper served as director, and it was produced by DiCaprio and Ridley Scott.
With that sort of pedigree, it will be intriguing to see who the studio pursues from the acting end, especially if DiCaprio joins the mix as a leading candidate. There is no set release or production deadline, so as soon as we find out any thing new, you'll be the first to know.
Your Daily Blend of Entertainment News