Zoe Saldana Is Pissed Hollywood Studios Won't Pay For Child Care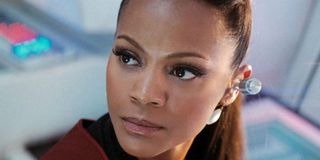 Zoe Saldana is seriously annoyed with Hollywood's lack of respect in her choosing to be a mother. The Avatar star has had no problem scoring bigger and better roles over the years, but when Hollywood found out she was pregnant a little over a year ago, their reaction was not exactly of congratulations. And when Saldana gave birth to her twins in December, she was back to work fairly soon after. Now, she's getting even more pissed because the studios are not making motherhood an easy process for her, specifically in helping provide childcare.
The 37-year-old actress explained to USA Today (opens in new tab) that studios went into quite the tizzy when learning that she was expecting. And now, she's advocating that they should be helping her with childcare as they work her all these long, strenuous hours. She explains that male actors receive perks like private jets, bodyguards, penthouses and more, yet women can't get a nanny paid for?
The bitterness started to form though as Saldana first announced her pregnancy. She told the publication that the productions she was slated for all went into a panic and she even heard that one of them was considering writing her off the project entirely. To say the least, she was not too pleased with this dismissal, telling USA Today:
Saldana has quickly been on the rise scoring huge franchise roles in films such as Star Trek, Avatar and Guardians of the Galaxy. She's a hot commodity, but that doesn't mean the actress doesn't deserve to start a family if she is finally in a good place to do so. Also, if she's not asking for private jets and other luxuries, then is childcare really that much of a burden financially?
Saldana can be seen next in the jazz biopic Nina due out later this year, as well Star Trek Beyond and Guardians of the Galaxy 2 in the near future.
Your Daily Blend of Entertainment News
Thank you for signing up to CinemaBlend. You will receive a verification email shortly.
There was a problem. Please refresh the page and try again.