Bold Prediction: Woody Harrelson Will Win An Oscar For Playing LBJ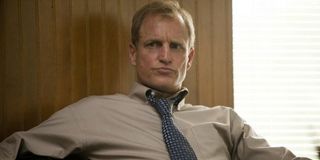 We don't want to get Woody Harrelson overly excited, but over here at Cinema Blend we think that his next acting role could lead to him winning an Oscar. That's because the Cheers, True Detective, and Zombieland star has signed on the dotted line to portray the 36th President of the United States of America, Lyndon Baines Johnson, in an upcoming biopic of the Texan.
According to Variety, Woody Harrelson will play the former president in the political drama, which will neatly and simply be called LBJ. He's also working with one of the finest directors of the 1980s and 1990s in the shape of Rob Reiner. And if the 68-year-old filmmaker can eke a monumental performance out of Harrelson as Johnson, then the project has all the ingredients of an Oscar contender.
Of course, we're still far away from even knowing if LBJ will actually be a worthwhile biopic. Screenwriting novice Joey Hartstone wrote the script, which tells the story of Johnson's upbringing in West Texas and his ultimate rise to both Vice President and President of the United States. Johnson made the last ascension following the assassination of President John F. Kennedy in Dallas back in 1963.
While in the White House, Johnson played a key role in civil rights legislation, as well as helping millions of American rise above the poverty line because of his War On Poverty scheme. However, he ultimately decided not to run for a second term in office because of the growing disenchantment with the violence at home and in Vietnam. He was ultimately succeeded by Richard Nixon in January 1969, and just four years after he left office, Johnson died of a heart attack at the age of just 64.
Over the last few years Johnson has popped up in a variety of theater and films. Live Schrieber played him in The Butler, Tom Wilkinson did the same in Selma, but his was a much more controversial incarnation, while Bryan Cranston starred on Broadway as Johnson last year in All The Way.
But as a native Texan himself, Woody Harrelson makes for a great choice to portray Lyndon B. Johnson on the big-screen. He also possesses a similar facial structure to the President, while it will be interesting to see just can much he can transform into the politician. Meanwhile, if our prediction does prove to be true and Harrelson finds himself clutching an Oscar for LBJ, then the third time will prove to be the charm for the actor, as he was previously nominated for his performances in 1996's The People Vs. Larry Flynt and 2009's The Messenger.
It's been a while since Rob Reiner oversaw something so weighty. Over the last two decades, actually dating back all the way to 1996's Ghosts Of Mississippi, Reiner has mainly focused on lighter fare. But his work of the 1980s and 1990s, which included This Is Spinal Tap, Stand By Me, The Princess Bride, When Harry Met Sally ..., Misery, A Few Good Men, and The American President, proves his credentials. Shooting on LBJ starts in the fall and we can probably expect it to hit just in time for the 2017 Oscar campaign.
Your Daily Blend of Entertainment News
Thank you for signing up to CinemaBlend. You will receive a verification email shortly.
There was a problem. Please refresh the page and try again.