Steve Zaillian May Direct Timecrimes Remake In Addition To Writing It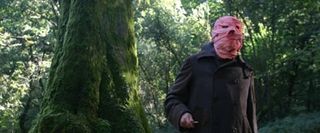 Screenwriter Steve Zaillian has penned tons of smart, often acclaimed dramas over the past decade. Let's run down the list: The Girl With the Dragon Tattoo, Moneyball, American Gangster, The Interpreter, Gangs of New York. Take it back further and you hit Schindler's List, Searching for Bobby Fischer, and Awakenings. He's also commanded from the director's chair several times over the years, including on 1998's A Civil Action and the 2006 remake of All the King's Men. According to The Playlist, he may be putting on his director's cap once more for a project he was already writing: the remake of the Spanish science fiction film Timecrimes.
The original Timecrimes came out in 2007, written and directed by awesomely named Spanish filmmaker Nacho Vigalondo. It earned some buzz as a fun, twisty time-travel flick and landed Vigalondo work in Hollywood. Vigalondo has an exec producer credit on the remake according to IMDb, but it's unclear how much he's actually involved. The new version was originally adapted by Timothy J. Sexton (Children of Men), before Zaillian came on a year ago.
Zaillian told The Playlist that he didn't have any "imminent" directing plans, but that "I did some work on [Timecrimes]. It's a little science fiction thing that I might do. Need money, need actors, all of those things." So it's definitely in the preliminary stages at this point.
If you missed out on Timecrimes, it tells the story of an average guy who is sent an hour into the past and realizes he may have the chance to prevent a woman's murder. You can check out the trailer for the original version below.
Your Daily Blend of Entertainment News
Your Daily Blend of Entertainment News
Thank you for signing up to CinemaBlend. You will receive a verification email shortly.
There was a problem. Please refresh the page and try again.