Steven Spielberg Already Cutting Something Big Out Of Ready Player One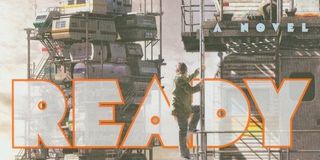 Adapting books into movies is a difficult proposition. In the best of times, you still have to cut elements, trimming the contents of hundreds of pages down until it will fit a few hours of screen time. And in the case of a novel like Ernest Cline's Ready Player One, a narrative awash in pop culture references, this is even trickier. Steven Spielberg is adapting the novel, and though it is still in the early goings, he's already starting to cut things out, specifically references to his own movies.
The fan-favorite director is on the publicity trail, stumping for his upcoming espionage thriller Bridge of Spies. During an interview with Entertainment Weekly, he said:
And this isn't just Spielberg's directorial output he's talking about. There won't be any references to the like of Jaws and the Indiana Jones movies, but he's also apparently removing any nods the films he worked on in other capacities as well. So, don't expect to hear much about DeLoreans and Back to the Future, or the Fratellis, One-Eyed Willie, or the rest of The Goonies.
Ready Player One is steeped in pop culture, especially that of the 1980s, and as Steven Spielberg was such a huge part of that decade, delivering a string of landmark movies that remain influential to this day, you might think it will be a bit tricky to cut him out. But if you've read Cline's book, you full well just how full-to-bursting it is with references, both overt and oblique; there will be more than enough to go around and fill the space.
In fact, one of the roadblocks with bringing the 2011 to the big screen—it had a movie deal in place before it was even published—is the avalanche of references. There are a lot of rights that need to be cleared or worked around. The story is set in a dystopian future where everyone spends most of their time in a virtual reality world called OASIS, and an elaborate scavenger hunt where the victor wins ownership of the program, thus becoming the richest, most powerful person in the world. Each and every clue in the quest revolves around movies and TV shows and video games and cartoons and comics and much more. One of the things that is going to be most interesting to watch is to see how they handle that side of things. They're going to have to rein some of it in.
Ready Player One is currently deep in development, and Spielberg indicated that it will begin filming sometime next year. At the present, only one key role has been cast—Olivia Cooke will play Art3mis, a friend, collaborator, and love interest for the protagonist, Wade Watts—though the director says he would like to have the cast locked in by early 2016.
As it stands, Ready Player One is scheduled to hit theaters on December 15, 2017.
Your Daily Blend of Entertainment News