Indiana Jones 5? Steven Spielberg Just Dropped This Update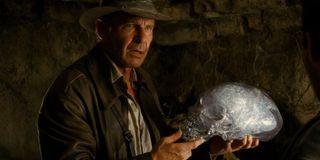 When Disney purchased Lucasfilm, they instantly set into motion plans for more Star Wars movies, but the Mouse House also received the rights to Indiana Jones. While rumors had been circulating early on, it was only confirmed earlier this year that a fifth film about the adventurous, whip-cracking archaeologist would be returning to the silver screen. Who will be back? Will Harrison Ford return? Will Steven Spielberg? The director touched upon his future with the franchise during a recent interview.
Speaking with Yahoo Movies, Spielberg joked that Tom Hanks and Ford are now tied with the number of movies they've made for him. Ford has done four Indiana Jones films, while Hanks is the star of Saving Private Ryan, Catch Me If You Can, The Terminal, and now Bridge of Spies. According to Spielberg, he has to rectify this.
The fourth Indy film, The Kingdom of the Crystal Skull, saw Ford reprise his role at the age of 65. He's now 73, though age hasn't stopped him; we'll see him reprise his role of Han Solo in Star Wars: The Force Awakens this December, and he'll return to the world of Blade Runner for the sequel. It still seems unlikely that he'd be the main focus of a fifth Indy movie. The end of Crystal Skull saw him getting married to his longtime love Marion, and the wind even blew his famous hat to Shia LaBeouf's Mutt (before Indy pulled it back). If rumors are any indication, there was talk in the past about Lucasfilm wanting to bring in someone younger (cough, Chris Pratt, cough) to take over the franchise in Ford's stead — though LeBeouf's celebrity stock keeps plummeting with each new drunken incident.
Last year, Disney chairman Alan Horn wasn't as optimistic about the future of Indiana Jones as some of his co-workers. He told Variety at the time that they haven't done any work on it yet because they don't have a story. Cut to earlier this year when Kathleen Kennedy, the president of Lucasfilm, said that an Indiana Jones 5 is certainly in the cards, but she reiterated that they haven't started working on a script. And to finish off this Indy status sandwich is producer Frank Marshall, who said that another installment is far off. Assuming someone gets his or her butt in gear, a screenwriter could potentially turn one out by next year and Lucasfilm could make Indy 5 before Ford turns 80, should they want to fast track this. However, the focus at the moment is Star Wars, Star Wars, and more Star Wars.
Your Daily Blend of Entertainment News