The Reason Steven Spielberg Wants To Make Ready Player One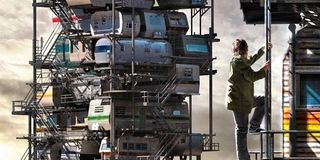 When you read Ready Player One, Ernest Cline's true love of 1980's nostalgia shines through, especially through his references to 80's culture. Naturally, there's more than a couple references to the works of Steven Spielberg in there, which would make him the perfect choice to direct the film adaptation coming in 2017. However, Spielberg didn't take the job to comment on his past; instead, he's talking to us about are future.
USA Today (opens in new tab) spoke with the iconic director as he was promoting his latest film, Bridge Of Spies. With that film coming to theaters, and The BFG heading to theaters next summer, Ready Player One seemed like fertile ground for discussions on how or why Spielberg would decide to take the bestselling novel into his creative hands. As it turns out, Spielberg is captivated by the story's take on a mostly virtual future, because he sees a lot of the building blocks for that future falling into place now. His approach is looking to balance the morality, as well as the more fantastic aspects of the film, as Spielberg laid out his approach as follows:
If that doesn't sound like a classic Steven Spielberg movie, then frankly we don't know what does. While it has to be said that the initial rumors that Christopher Nolan would be directing were so tantalizing that we wanted him to sign on immediately, we're not disappointed in the least that Spielberg got the gig. For the most part, his films in the past couple of years have been in more grounded realms than usual, especially considering his last "fun" film was 2011's underrated joy ride The Adventures Of Tintin. However, it's been a solid decade since the director has made anything remotely science fiction, with War Of The Worlds being an equally underrated and entertaining film.
While Steven Spielberg excels at character dramas and historical biopics, it's a giddy delight to know that Ready Player One's cyber treasure hunt has landed in the hands of one of the men who inspired Ernest Cline's novel, as well as some of its characters. When Spielberg promises a "big rockin' adventure film," you know he can deliver on that promise in full. It'll be interesting to see how the project pulls together in the next couple of years, and with rumors that Spielberg might be trying to convince Gene Wilder to come out of retirement, he's obviously looking for a solid murderer's row cast for the adult component.
Should Gene Wilder pass on the opportunity, if Ready Player One is indeed the film Spielberg is seeking his participation in, then we have a holy trinity of cast members that would make the perfect core to this film. You can head onto Page 2 for that breakdown, but in the meantime you can see Steven Spielberg's Bridge Of Spies when it hits theaters on Friday, and The BFG when it reaches the silver screen on July 1, 2016. Ready Player One is slated for release on December 15, 2017.
In Ready Player One, there are three central adult characters that make up the story's heart. There's James Halliday - the Willy Wonka-esque video game tycoon that's left his possessions to whomever can solve his easter egg hunt, Ogden Morrow – Halliday's estranged best friend, and Nolan Sorrento – Halliday's business rival, who's obsessed with winning the treasure hunt.
For the casting of James Halliday, hands down the role should go to Tom Hanks. The lasting relationship between Hanks and Spielberg is something that should be capitalized at all times, as these two are a hoot to watch in action. Also, Hanks has that 80's cred that lends itself to the story's throwback nature. Though if we're going to talk about throwbacks, there's another icon from the 80's that deserves a role in this picture – and that's Dan Aykroid.
Aykroid would be perfect for the role of Odgen Morrow, as he's eccentric enough to nail the character's crossroads of "Albert Einstein meets Santa Claus." Not to mention, the techno-babble inherent to the film's script would sound wonderful tripping off of his rapid fire tongue. This leaves us with the villain of the piece to be cast, and if we're going to try and convince someone to come out of retirement, there's one clear choice hiding in plain sight. It's high time we gave Gene Hackman a chance to make sure his resume doesn't end with Welcome To Mooseport.
Just imaging Hackman's charming, yet menacing nature from his Lex Luthor performance in the Superman series, and transpose that to the character of Nolan Sorrento. His keen balance of menace and polite banter would be perfect to terrorize young Wade Watts in his quest for Halliday's treasure. If these three titans are cast in Ready Player One, you've gone a long way towards cementing this film as a hell of a theatrical experience. That is, of course, if you cast the right actor to play Wade Watts.
Senior Movies Contributor
CinemaBlend's James Bond (expert). Also versed in Large Scale Aggressors, time travel, and Guillermo del Toro. He fights for The User.
Your Daily Blend of Entertainment News
Thank you for signing up to CinemaBlend. You will receive a verification email shortly.
There was a problem. Please refresh the page and try again.