Straczynski Talks About Silver Surfer Movie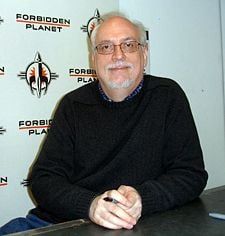 Despite the fact that I've never heard of him, J. Michael Straczynski is a big wheel in the sci-fi world. I'm not too interested in the sci-fi world normally, so therein lies the rub. He did create Babylon 5 and also writes comic books, so when he talks about writing a new movie, I put aside my personal bias and bring you the facts. That's why I'm the new Edward R. Murrow, my love of the facts.
Straczynski sat down for an interview with the AMCtv.com and talked about his upcoming projects, including Silver Surfer: Requiem. That movie is supposed to be a follow-up to 2007's Fantastic Four: Rise of the Silver Surfer. However as Straczynski himself notes, it's iffy the movie will ever get made. Refering to the studio, he says, "…they were kind of disappointed in how Fantastic Four 2 did. And given how this will be a subset of FF2 in terms of the marketing strategy, I think there is hesitation there about putting it forward." I thought Fantastic Four 2 did ok money-wise, but maybe not well enough to launch a sequel focused on the Silver Surfer.
If you want to know what would have been in Silver Surfer: Requiem, Straczynski gives some general plot points in the interview. The movie would have picked up right as Fantastic Four 2 ended. According to Straczynski, "you find out why Silver Surfer was there and what happened to him. We would have seen Galactus, his home world, what happened and him trying to get back there, because now that he's betrayed Galactus, he's concerned his home world might be in jeopardy." But, again, he talks about it almost like there is no way it will actually happen. So, sci-fi fans, don't expect to see Galactus and his home world on the big screen anytime soon.
Your Daily Blend of Entertainment News
Thank you for signing up to CinemaBlend. You will receive a verification email shortly.
There was a problem. Please refresh the page and try again.