Stuart Little Is Getting A Remake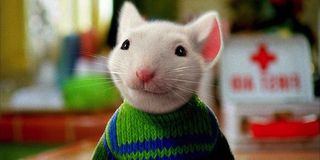 If you just can't get enough of talking animated mice, you're in luck today. It's been more than a decade since we saw the adorable, precocious, possibly even heroic Stuart Little on the big screen (the third movie, 2006's Stuart Little 3: Call of the Wild, went directly to video), but there's more on the way as the popular family movie is getting a remake courtesy of Sony Pictures and Red Wagon Entertainment.
The Tracking Board was the first to report that the iconic little mouse is getting another go at cinematic success. Like its theatrical predecessors, this version of Stuart Little will be a hybrid of computer animation and live-action footage (again, Stuart Little 3 is the black sheep of the family and was entirely animated) and follows the adventures of the titular mouse and the Littles, the human family that adopts him.
More than a remake of the existing films, or a reboot of the franchise, this is being billed as another adaptation of E.B. White's (Charlotte's Web) 1945 children's book of the same name. However, as it is will reportedly be in the vein tonally as a John Hughes movie, you have to imagine that there will be some rather substantial alterations made to the source material.
After its release, Stuart Little became a staple of children's literature and eventually grew to bona fide classic status. The 1999 film, which starred Geena Davis and Hugh Laurie as Eleanor and Fredrick Little, respectively, and Michael J. Fox as the voice of Stuart (Nathan Lane lent his voice to Snowbell, the family cat), went on to earn north of $300 million at the box office. The sequel, 2002's Stuart Little 2, wasn't quite as successful, but still made more than $169 million. A short-lived animated series followed in 2003, replacing the entire cast, except for Laurie, who voiced Fredrick throughout, though both Davis and Fox reprised their roles in Call of the Wild a few years later.
At the moment, there's no real word on when this updated Stuart Little might arrive for public consumption. There are some producers in place, including Douglas Wick, who also produced the 1999 version, but as of right now there's news about whether or not there's a script in place or just a pitch, or if they're at the stage of eyeing a director and stars. Before we get there, Red Wagon also has the final two movies in the Divergent Series to attend to, as well as that remake of the teen witch saga The Craft. So, it could realistically be quite some time before Stuart Little shows up on our doorsteps.
Your Daily Blend of Entertainment News
Thank you for signing up to CinemaBlend. You will receive a verification email shortly.
There was a problem. Please refresh the page and try again.