What Michael J Fox Really Thought Of The DeLorean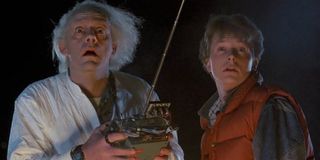 In a world where the Jurassic Park franchise churned out another installment, Arnold Schwarzenegger is playing the Terminator again, and the Star Wars saga is coming back with both the old and a new cast, might there be hope for more Back to the Future? The classic film featured time travel, a nutty professor and Michael J. Fox. It has a massive fan base and seems ripe for the same treatment, if not now then a decade from now. But even if you're secretly holding out hope for a sequel of some sort, Fox doesn't want you to hold your breath.
According to Radio Times, Fox joined fellow cast mates, such as Christopher Lloyd, Lea Thompson, Claudia Wells, Marc McClure, Frances Lee McCain, James Tolkan, Donald Fullilove and Harry Waters Jr., for a Back to the Future retrospective at London Film & Comic-Con this past weekend. While reflecting on his time making the film, he said piloting that hunk o' junk, the DeLorean -- which would be essential to a sequel -- was a pain.
Fox said earlier in the panel that it was the worst vehicle to drive. It had only two gears and slamming the door would smash him into the flux capacitor. As he described, his head and hand would be bleeding, but he had to clean it all off to head over to the set of the sitcom Family Ties. Plus, his entrance proved to be a constant issue, as he'd be hit by the "freakin' door" time after time. So, if Fox has anything to say about it, he won't be getting back into that thing — ever!
Fox's words echo a similar, though more blunt response from Robert Zemeckis earlier this month. The Back to the Future director was asked by The Telegraph about the possibility of a reboot, and Zemekis had an incredible response,
Robert Zemeckis referred to his writing partner on the film, Bob Gale, who commented last year how none of these kinds of reboots are any good. Zemeckis continued to muse over whether their estates could get involved after their deaths to prevent a Back to the Future reboot from ever seeing the light of day. He called such an act "outrageous" and compared rebooting his work to rebooting something like Citizen Kane. "What folly, what insanity is that?"
Whether this comes as the biggest disappointment or the biggest relief, the main players of Back to the Future are more than content to let this exist as it already is. The film, which came out on July 3, 1985, is currently celebrating its 30th anniversary, and will even be getting a Back to the Future 30th Anniversary Triology Blu-ray and DVD release on October 20. What better gift could Zemeckis and company give than allowing it to live out its days in peace.
Your Daily Blend of Entertainment News