The Stunning American Sniper Trailer Tempts Bradley Cooper To Shoot Children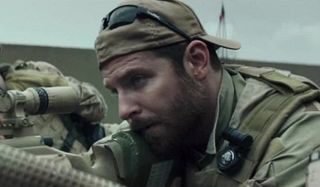 The first trailer for Clint Eastwood's upcoming war-bio, American Sniper, has been released, and it's a nail-biter to the nth degree, as you're forced to ask yourself, "Would Bradley Cooper really shoot a child?"
Cooper plays Chris Kyle, the most lethal sniper in American military history, who claims to have killed 255 people during his four tours in Iraq, and early word is that he is a shoe in for a plethora of Best Acting nominations when awards season rolls around. You can see why in American Sniper's riveting trailer, which is above.
There are some mild American Sniper spoilers in this article.
You can already get a sense of why Bradley Cooper has been receiving praise for his work as Kyle, who was shot and killed at a shooting range in Texas on February 2, 2013. The man who has been accused of killing Kyle is currently awaiting trial for his murder. All the Oscar-buzz hallmarks are there. He's gone through a physical transformation by bulking up massively for the part, growing that impressive beard must have taken some doing too, and he's also deployed a different accent, while the fact that he's playing a decorated war-veteran is the kind of thing that the Academy laps up in spades.
There's also a sense that this is Cooper's time. His career has certainly built up exponentially over the last few years, and his turns in Silver Linings Playbook, The Place Beyond the Pines, American Hustle, and (even though it was just his voice) Guardians Of The Galaxy were met with widespread acclaim, it suggests both audiences and critics are fans of his efforts. Even though he's still the man who starred in All About Steve.
You can check out Warner Bros. official synopsis for American Sniper below:
It's great to see that David Fincher isn't the only one who puts thought into his trailers nowadays, as there's certainly a sparkling intensity to Eastwood's clip. Not only does it give you a real sense of the pressure and conflict that's involved in being a sniper in combat as Cooper tries to weigh up whether to take a shot at a woman and child carrying an RKG, but we snap back and forth from his life at home and see him marry, have a child, upset his wife, visit war-wounded in hospitals, and then return home amongst the coffins of his fallen soldiers. It's pretty stirring stuff.
But can Eastwood still deliver? It might be a controversial thing to say, but he has arguably only made one decent film in the last decade -- Gran Torino -- while the stinkers (Hereafter, Invictus, J.Edgar, Jersey Boys) are beginning to pile up rapidly. His place amongst the pantheon of American filmmakers is still, obviously, secure. But it would be good to see him prove that he's not just making films on merit now. Hopefully American Sniper will do just that when it's released on December 25, 2015.
Your Daily Blend of Entertainment News