Bradley Cooper To Become Super Spy Mack Bolan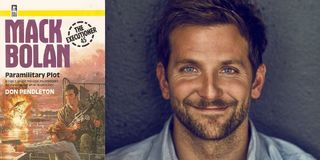 You might not know the name Mack Bolan, but the secret agent has been the hero of more than 600 novels. Yeah, that's right. And you thought James Bond was prolific. But while 007 has been tearing it up in 30-some movies based on the Ian Fleming books, Mack Bolan has struggled for decades to make to the big screen. But at long last it looks like this storied spy will get there, thanks to Bradley Cooper.
Deadline reports Warner Bros. has secured the rights to Don Pendleton's Mack Bolan book series, buying them from screenwriter/producer Shane Salerno. From here, the studio is developing a vehicle for two-time Academy Award nominee Bradley Cooper, who is also set to co-produce the pic. Cooper will share producing duties with Salerno as well as Todd Phillips, his director in The Hangover I, II & III. Phillips could ultimately helm this Cooper movie too.
Mack Bolan is the definition of "man of action," which means The Untitled Mack Bolan Project could prove the start of Cooper's own first blockbuster franchise. Cooper certainly does play a vital role in Guardians of the Galaxy, but most will agree that voicing the part of Rocket Raccoon doesn't mean Cooper has any kind of pull over the future of the film series or the development of the Marvel Cinematic Universe (the movie doesn't exactly hinge on him as an actor). With The Untitled Mack Bolan Project, he could be poised for a moneymaking string of films that he will have some say in behind the scenes as a producer.
That said, The Untitled Mack Bolan Project is in the early stages and has a long history of time spent in development hell. Shane Salerno is currently in the midst of scripting Avatar 4, which means Mack Bolan will probably have to wait. As to what kind of movie Salerno has in mind, he told Deadline to expect a "relevant, grounded and gritty, real-world, PG-13 action-drama film series" that will at the very least be intended as a trilogy.
This is a description that gels well with what we know of Mack Bolan. (Well, aside from that PG-13 malarkey.) But gritty, grounded action is not what many of us would expect from Todd Phillips. The director made his feature film directorial debut in 2000 with the gross-out comedy Road Trip, then followed it up with crude comedies like Old School, School for Scoundrels and The Hangover trilogy. The closest he's come to action were the buddy-comedies Starsky & Hutch and Due Date. It'll be interesting to see how this project develops, and if it will demand Phillips to make a major leap in style.
In the meantime, Bradley Cooper fans can look for him in the upcoming Susanne Bier drama Serena, which re-teams the Academy Award-nominee with Silver Linings Playbook co-star Jennifer Lawrence. Coming this Christmas, American Sniper will have Cooper playing a Navy SEAL in a hard-nosed, Clint Eastwood-helmed biopic.
Staff writer at CinemaBlend.
Your Daily Blend of Entertainment News
Thank you for signing up to CinemaBlend. You will receive a verification email shortly.
There was a problem. Please refresh the page and try again.