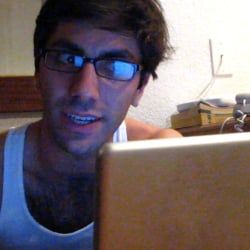 I saw Catfish this morning entirely because I had space in my schedule and could get a ticket from the publicist-- I didn't know if it was a documentary or a feature (documentary), if there were actual catfish involved (no), or anything else. As it turns out I gave myself one of those legendary Sundance experiences, walking into a movie knowing nothing about it, and leaving smitten and transformed.
A story specifically about our Internet age and the relationships that crop up precisely because two people aren't in the same place, Catfish is both enchanting and insightful, a combination of a great story your buddy tells at a bar and an exploration of the sadness that probably lurks behind people you only know as Twitter avatars. Filmmakers Henry Joost and Ari Schulman work closely with their main subject, Nev Schulman-- he's Ari's brother, of course-- and kind of make a film about the three of them, filmmakers looking for a story and finding it in the most mundane and spectacular of places: Facebook.
It starts when 8-year-old Michigander Abby mails Nev a painting she's done based on a photograph he had published in a newspaper-- two dancers posed in front of a sunset. Nev and Abby becomes penpals of sort, him sending her photos and her sending paintings in return, and Nev-- pretty much exactly the kind of upstanding guy you'd be OK with your 8-year-old daughter e-mailing-- begins friendships with Abby's mom Angela as well as her older sister Megan.
Much of what Nev knows about all of these people, of course, comes from Facebook-- photo albums, wall postings, status updates, posted links and songs. Nev's relationship with Megan soon grows romantic, but most of it takes place over gchat. No effort is really made to bring Nev together with this Michigan family until he, Ari and Henry are on a work assignment in Colorado and learn enough about Megan that they decide it's time for a surprise visit.
During the Q&A following the packed screening (and the standing ovation that followed), Ari Shulman begged us let other people experience the movie as they did, so I'll leave the details there. Catfish isn't just surprising in where the story goes, but in the conclusions the three filmmakers draw from their bizarre but entirely believable experience. These guys are all in their mid-twenties, so accustomed to the Internet era that it wouldn't occur to them to make a film decrying modern alienation or Facebook addiction. While the events of Catfish never could have happened without the Internet, it's more of a story about storytelling and adventure, maybe even a specifically American impulse to create a new life for oneself-- except now it's happening entirely over wi-fi connections.
And Shulman and Joost, moreso than most filmmakers our age, are acutely aware of the overarching effect of the Internet on their lives. As much as they use actual footage, Facebook photos and Google maps and screengrabs are used to tell the story. Think about how much of your life is spent looking at information on one screen or another; Catfish captures that everyday reality perfectly and naturally, and with a miraculous absence of pretension about it.
Catfish is looking for distribution at the festival, and while it doesn't have that obvious populist hook that's made other documentaries giant successes, it's an entertaining look at something that affects us all-- anyone could watch this movie and instinctively get it. Hopefully I'll be talking to the filmmakers later in the festival about some of the ideas brought up by the movie that can't be revealed for the sake of spoilers. Even though the insights of Catfish happened by accident, as things from real life tend to do, Joost and Shulman are obviously new filmmakers with something to say.
For more of our Sundance 2010 coverage, click here.
Your Daily Blend of Entertainment News
Staff Writer at CinemaBlend
Your Daily Blend of Entertainment News
Thank you for signing up to CinemaBlend. You will receive a verification email shortly.
There was a problem. Please refresh the page and try again.