Sundance Review: Save The Date Is A Honest And Touching Spin On The Rom-Com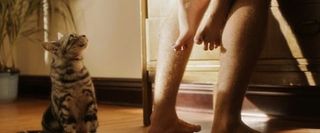 The generic, wedding-centric title Save the Date might suggest the kind of bland, lifeless romcoms you go to the Sundance Film Festival to get away from. But the movie is one of many at this year's festival that seems to revive the whole idea of watching two people fall in love onscreen, following two sisters in two very different relationship stages as each makes mistakes and slowly figures out what it really takes to commit to somebody. Featuring strong performances from both leads Lizzy Caplan and Alison Brie, along with lovely supporting work from their male suitors Martin Starr, Geoffrey Arendt and Mark Webber, the movie treads the familiar ground of love and family while telling a uniquely layered story of its own.
Caplan and Brie make for perfect casting as a pair of sisters tightly woven into each other's lives, as Beth (Brie) is engaged to the drummer (Starr) of a band called Wolf Bird, while Sarah (Caplan) is just moving in with the band's lead singer Kevin (Arend). We see from the very way that Sarah packs up her apartment she's not completely ready for commitment, but Kevin is oblivious, popping the question to her in the most public, and eventually most humiliating, way possible. Wolf Bird goes on tour, and Sarah makes her way out of the fog of a breakup partly through a quick new relationship with Jonathan (Webber), a meek marine biologist who's been crushing on her for ages. The relationship is obviously moving too fast, which perfectionist Beth can't help pointing out, but she's also caught up the details of a wedding her fiance is less interested in planning, and seems to think the messy details of her sister's life are just one more obstacle she has to deal with on the way to happily ever after.
Each of the characters in Save the Date spring from familiar movie types, from the type-A girl meddling in the lives of her loved ones to the heartbroken rock singer letting out his feelings onstage. But director Michael Mohan allows layers to develop in all of them, giving us time in each relationship to see how they worked and why they didn't, and letting every characters' choice come from a real place, not the demands of a script in a hurry to get to the happy ending. Occasional illustrations of the actors done by Sarah give the movie a nice quirky sheen, but it's the honesty and warm spirit of the movie that really sells it-- sure it's about hip LA people who are all easy on the eyes, but these are all people you probably know, and it's hard not to identify with them even when they're making colossal mistakes.
Caplan is having a good year at Sundance between this and Bachelorette, and carries a lot of the film's emotional heavy lifting without reaching too hard for it. Webber is having an even better Sundance, appearing as a similarly scruffy dream boyfriend in For A Good Time Call and directing himself in the micro-budget weepie The End of Love-- with a mild-mannered charm in Save the Date that doesn't cross over into being a doormat, he makes a strong impression by letting his co-stars take most of the attention. But maybe the film's biggest surprise is Martin Starr, known as Freak and Geeks's scrawny Bill Haverchuck, who emerges with a surprisingly soulful and subtle performance as a supportive fiance who knows exactly how to pick up the pieces.
Save the Date coasts a little too easily to its conclusion, and ends on a note of ambiguity that feels more like a safe choice than an actual gamble, but it's so pleasant getting there that it seems churlish to complain. The movie doesn't yet have a distributor in place, but it should only be a matter of time before Mohan's stylish, refreshing spin on the rom-com genre finds its way to larger audiences.
Your Daily Blend of Entertainment News
Staff Writer at CinemaBlend
Your Daily Blend of Entertainment News
Thank you for signing up to CinemaBlend. You will receive a verification email shortly.
There was a problem. Please refresh the page and try again.