Sundance Video Interview: Black Rock's Kate Bosworth, Lake Bell And Katie Aselton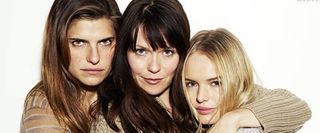 Katie Aselton brought her debut film as a director to Sundance two years ago, premiering the low-budget, sweet and simple romantic comedy The Freebie. For her second effort she decided it was time to step things up, and though she still stars in her latest film in addition to directing, she's made a thriller that takes place entirely outdoors, features actual movie stars in Kate Bosworth and Lake Bell, and covers a whole lot of action that's bigger than anything you might have seen in The Freebie.
In Black Rock Aselton, Bell and Bosworth play three childhood friends who travel to a remote Maine island for a reunion, only to find their trip completely derailed by an accident that leads to them being hunted down by some off-kilter hunters bent on revenge. The movie was picked up for distribution by LD Entertainment almost immediately after premiering, which means that audiences will have a chance later this year to get a look at Aselton's distinctive style of telling a familiar thriller story. Over the weekend I spoke to Bell, Bosworth and Aselton for about 15 minutes; for now here's 8 minutes from that interview, in which we talk about improvising despite their tight script, "grilling up" the script written by Aselton's husband Mark Duplass, and how Bell and Bosworth had each other cracking up during the film's opening scene. Check out the interview below, and look for Black Rock in theaters later this year.
Staff Writer at CinemaBlend
Your Daily Blend of Entertainment News
Thank you for signing up to CinemaBlend. You will receive a verification email shortly.
There was a problem. Please refresh the page and try again.