The Surprising Oscar Furious 7 Really Needs To Win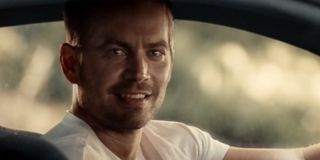 Just before Furious 7 was released into cinemas, Vin Diesel came out with what, at the time, was regarded as a rather ridiculous statement. The actor insisted that Furious 7 should win Best Picture at the Oscars. Now, even though Furious 7 was met with impressive reviews and a monster box office total, that still seems unlikely. But there is one Academy Award that the rollicking blockbuster really should win, though, and that's for its visual effects.
While talking to Variety, Joe Letteri, who worked on Furious 7 thanks to his role as Weta Digital's senior VFX supervisor, detailed just how much work they had to do on the film to honor the legacy of Paul Walker. Walker tragically died partway through production on Furious 7, which meant that the team had to tirelessly work to complete his performance using visual effects. Letteri explained:
However, Letteri insisted that the most challenging part of working on Furious 7 wasn't the stunt sequences that involved Walker's character Brian O'Conner, but the close-ups of his face, which they needed to make sure coincided with his earlier performance.
After the death of Walker in November 2013 forced Furious 7 to make changes to the script and film, producer Neal Moritz and director James Wan decided to bring Weta Digital on-board to help them keep it as faithful as they possibly could to the original film. This saw the team work on 350 shots, almost all of which included Paul Walker's character. In order to re-create an actor's face on screen, Weta Digital would usually use motion-capture. However there were no scans of Walker that they could use to create a digital double of the actor.
Instead, they had to trawl through outtakes from Furious 7 and old footage that featured Walker, before they then had to "relight his performance." And while there were inherent challenges in featuring Walker in action sequences, visual effects supervisor Martin Hill insisted:
By scanning Cody and Caleb Walker, who are Paul's brothers, as well as actor John Brotherton, who had a similar build and coloring to the trio, they were able to truly capture Paul Walker's performance. They did this by motion-capturing Cody, Caleb and John Brotherton, and then applying it to the digital models of Paul Walker they'd created. These models were painstakingly worked on to amend Walker's facial muscles – such as his frowning and the way he raised his eyebrows, the coloring of his face after he'd exerted himself, his hair movement in the wind, and even to make sure that he blinked.
All while still creating a performance that didn't tarnish Paul Walker's reputation. And despite the mountains of work that they had to go through to do just that, it was something that they accomplished perfectly. In fact, they did such a good job that by next year, we might have to start referring to Furious 7 as an Oscar winner. And it would be well-deserved.
Your Daily Blend of Entertainment News
Thank you for signing up to CinemaBlend. You will receive a verification email shortly.
There was a problem. Please refresh the page and try again.