Sylvester Stallone Finally Doing Rambo V?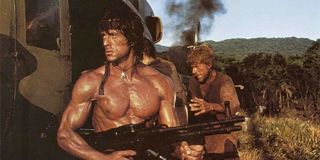 You might have thought that Sylvester Stallone was done with Rambo. And you'd be wrong: Stallone played the character four times, seemingly closing the book on the iron-willed warrior with 2008's Rambo. Now that he's approaching seventy, he couldn't possibly be believable as the hero again, would he? If there's anything his career has taught us, it's that you probably shouldn't bet against Sly. John Rambo is back.
Coming Soon translated a press release from Splendid Film that revealed a fifth Rambo is indeed in the works.
If Millennium Films have agreed to continue their mutually-beneficial relationship with Stallone and make Rambo V as early as next year, this is news. Stallone can't wait around for films like this, and while a drama compared to No Country For Old Men wouldn't be too taxing on Stallone, he can't pull off "badass grandpa" for much longer.
That being said, the neo-western angle to Rambo has been floated before as a possible option, so clearly Stallone is high on the idea. But is there really any money in another Rambo? The fourth film grossed $113 million, twenty years after Rambo III pulled in $189 million (not adjusted for inflation), and was seen, and marketed, as Stallone's final farewell to the character. It even ends in a way that brings closure to the Rambo saga, suggesting a man at peace with his creation.
Or "creation," as Stallone has since wrestled complete control over John Rambo from David Morrell, the writer of First Blood. Stallone's Rambo not only lives at the end of First Blood, but he goes on to become a mascot for the armed forces, a complete violation of what he represented in that original film. Rambo returned the self-doubt and murky morality to the character, but he was still an invincible superman, and the film seems like it's halfway about Stallone as much as it is about Rambo.
Regardless, a fifth Rambo makes just as much sense as a fifth Terminator or a fifth Die Hard, so why stop now? It's all mirrors, this endless sense of reflection these cinematic heroes pursue. A vain desire to see themselves continue to produce the same heroics, continue to exist in the halcyon days of the past when they towered over bad guys and fired the biggest guns. Stuff like Rambo (which Stallone wrote, directed and starred in) feel more like extra-expensive home movies, utilizing several bits of footage from earlier films and re-asserting the strengths and abilities of these heroes from yesterday. Stallone seeks success in this summer's The Expendables 3, and if this report is to be believed, he's finally looking at a humble end for one of his characters, at least judging by the comparison to the Coen brothers-Cormac McCarthy team-up. Maybe then yesterday's action heroes can finally find solace in old age, and not just endless gunfire.
Your Daily Blend of Entertainment News