Sylvester Stallone Swears Wesley Snipes Will Be In The Expendables 3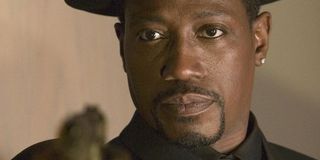 Sylvester Stallone has made it perfectly clear that Wesley Snipes has an open invitation to join the Expendables franchise – only, a little thing called prison was keeping the action star from participating in the fun. Now that Snipes is free from jail, though, Stallone is hopping back on the actor's Money Train, and claiming he's a member of the crew.
Stallone took to Twitter to proclaim that Snipes "is BACK!!!!! … … with US." This, in Twitter speak, replaces an actual studio confirmation of casting, so keep it in your back pocket as probably going to happen but not exactly set in concrete just yet.
The idea of a third Expendables movie, however, seems about as rock-solid as sequels get. Stallone admits on his own Twitter feed that he's hard at work on the script for part three, and started the conversation on the social media outlet by asking his followers if they thought Mel Gibson would be a good choice to direct the picture. As you could probably guess, the polarizing Gibson split most responders down the middle, with a few recognizing the professional skills he could bring to an action franchise, and others turned off by the man's personal demons.
But all indications say that The Expendables 3 will happen, even as the cast shakes itself out. Stallone still wants Jackie Chan, though Nicolas Cage appears to be out right now. There's room for Snipes, but will the heavy hitters from the previous installments – Bruce Willis and Arnold Schwarzenegger – be on board? Follow Stallone's Twitter for details, and we'll bring you all the news and insight on the next Expendables as it unfolds.
Movie junkie. Infatuated with comic-book films. ReelBlend cohost. Resident dad. Extroverted introvert. Wants to see the Snyder Cut. Managing Director at CinemaBlend.